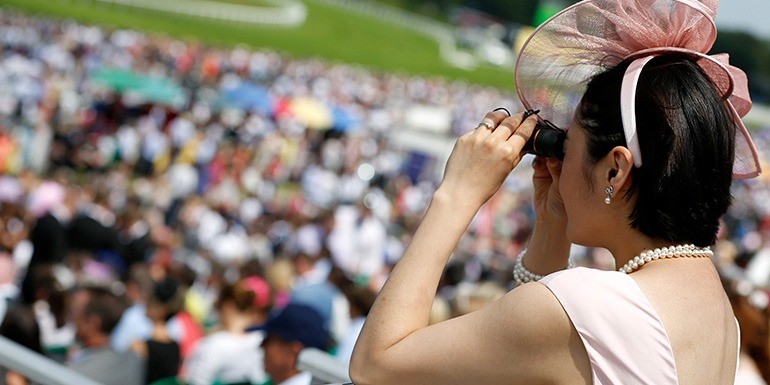 The Royal Meeting takes place at Ascot Racecourse every year and is synonymous with elegance, style, sophistication and world-class sport.
This meeting is the biggest of the flat racing season in the UK and hosts an astonishing eight group one contests spread across five glorious days of unrivalled action. Royal Ascot corporate hospitality packages are available for all five days of the 2017 Royal Meeting including the always popular Royal Ascot Ladies Day.
Deciding what to wear to the Royal Meeting can be a daunting task for both men and women. We have put together a style guide to try and help you decide!
Massive change at Royal Ascot 2017?
Jumpsuits have come back in fashion from catwalks to retail shops. The Royal Ascot Enclosure accepts the use of Jumpsuits to be worn for the first time in 300 years. However, they will only accept jumpsuits that are ankle length with either a light/beige colour scheme but nothing too colourful. The last time The Royal Ascot made a major change was in 1971 where the trouser suit was incorporated into the dress code. With severer rules this year, halter necks, spaghetti straps and clashing colours are definitely NOT allowed.


Ladies
• Skirts and dresses will have to be knee-length at a minimum. Anything shorter will not be accepted
• The straps of dresses or tops should be one inch or thicker.
• You are allowed to wear jackets and pashminas but it's recommended that the dress or tops underneath should obey with the style code.
• Trouser suits and jumpsuits are acceptable but both should be full length having a suitable colour and material.
• Hats NEED to be worn with a solid base of 10cm is acceptable.

Gentlemen
• Gentlemen must remember to wear either black or grey.
• Must wear a waistcoat and tie
• Black/grey hat
• Black shoes
• Gentlemen are allowed to take their hats off when they are in a private box, a private club, a restaurant, balcony or garden.
Children
• Girls who are aged 10-17 should dress according to the ladies dress code. They may wear a headpiece or fascinator without any restrictions.
• Boys who are aged 10-17 should dress according to the gentlemen's dress code or they can wear a dark coloured suit with a shirt.
Overseas visitors
• They are more than allowed to wear the formal National Dress of their country or a service dress.
Serving military
• More than welcome to wear a service dress or something similar.
Banned from Ascot
• Strapless, halter neck and spaghetti straps.
• Midriffs should be covered.
• Headpieces are not allowed unless they have a solid base of 10cm/four inches.
If you have any questions on the above or would like any more dress code information please contact us on 020 7989 6500.
The Royal Meeting is now less than 40 days away, Eventmasters have limited stock remaining in exclusive areas… but the stock is running out fast! Please follow the link for more information on our Royal Ascot Hospitality Packages.
https://www.eventmasters.co.uk/wp-content/uploads/2017/05/Ascot-Style-guide.jpg
385
770
Danny Till
https://www.eventmasters.co.uk/wp-content/uploads/2017/07/logo.jpg
Danny Till
2017-05-12 11:06:44
2017-05-12 11:18:30
Royal Ascot 2017 Style Guide & Dress Code