UEFA Champions League Groups A-H 2020/21
The UEFA Champions League 2020/21 group stage draw took place on Thursday 1st October in Geneva and fans are in for a treat as some of the biggest names in European football are set to face off in the Group stages. Reigning Champions League winners Bayern Munich will go head to head against Atletico Madrid in Group A, Real Madrid are set to clash with Shakhtar Donetsk in Group B, whilst Group H looks particularly shocking!
2019 European Champions, Liverpool will be up against the likes of Ajax, who could be a potential threat to the Reds but then again, anything can happen! Take a look as we break down groups A-H of the UEFA Champions League 2020/21.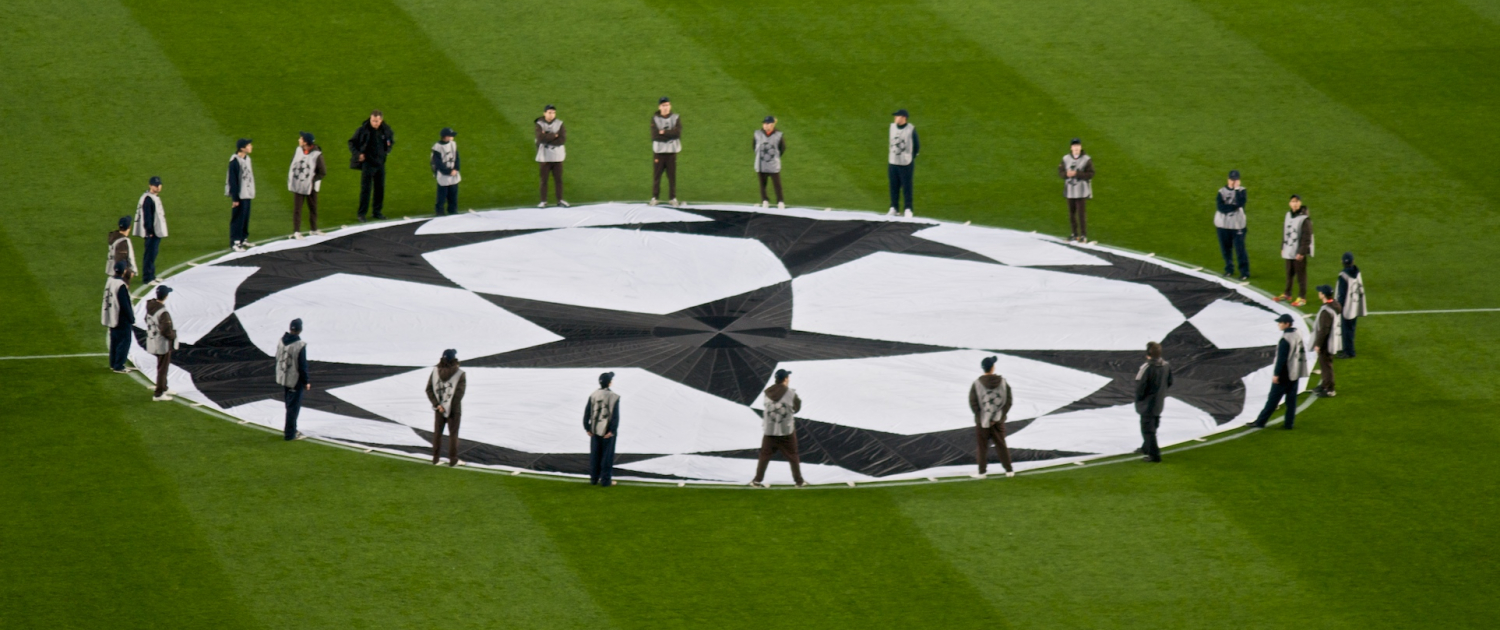 GROUP A
Group A consists of major football giants Bayern Munich and Atletico Madrid as well as Salzburg and Lokomotiv Moskva.
Current Champions League winners Bayern Munich are set to take on Atletico Madrid in Bavaria, in what could be a challenging game. Amongst a few select others, this is one of the games which football fans are most looking forward to. Will Bayern go all the way for a second time?
Salzburg gave Liverpool a tough time last year, so there is the potential for the Austrians to become tough opponents as they take on the likes of Lokomotic Moskva.
GROUP B
Group B consists of an interesting mix of clubs including Real Madrid who will take on Shakhtar Donetsk as well as Internazionale and Mönchengladbach.
Real Madrid are certain to be tough opponents, having won the Champions League a record 13 times, with the last being during 2017/18.
Inter Milan Vice President,  Javier Zanetti, believes that group stage draw is very balanced and is pleased with the pairing against Mönchengladbach. Time will tell if the draw is really as balanced as what it seems!
GROUP C
Group C includes 2019 Premier League Champions Manchester City who will face Porto as well as Olympiacos and Marseille.
Man City v Porto is certainly another game which football fans will eagerly await. It has been eight years since these two sides last played one another. It will definitely be interesting to witness the outcome of what is set to be a thrilling match!
Olympiacos v Marseille is equally another interesting pairing, given that the two sides have never played against each other in a competitive fixture. Who knows how this match will play out!
GROUP D
Group D looks to be another interesting mix with current Premier League champions Liverpool up against Ajax as well as Atalanta and Midtjylland.
The nation is undeniably awaiting to witness the action of Liverpool v Ajax. The Reds were phenomenal during the 2019/20 Premier League season – will the same magic be present during this year's Champions League?
Atalanta are somewhat of an underdog within the Champions League but managed to make it to the final 8 during the 2019/20 Champions League. There is definitely potential for the Italians to make their mark this time around as they take on Midtjylland.
GROUP E
We look forward to seeing how Chelsea fair amongst their Group E opponents, which include Sevilla, as well as Krasnodar and Rennes.
Chelsea have managed to avoid some of the more challenging teams within the Champions League this year and The Blues will undoubtedly be looking to better last year's performance where they were knocked out by Bayern Munich in the final 16. With a number of exciting new signings including Kai Havertz, Thiago Silva and Timo Werner, Lampard's men have the potential to make serious waves this time around.
GROUP F
Group F includes the likes of Zenit versus Dortmund in addition to Lazio and Club Brugge.
This group could face some challenges given that it includes Russian Premier League champions, FC Zenit Saint Petersburg.
Borussia Dortmund have also experienced run-ins with all teams within the group over the years, with their previous Champions League clash against Club Brugge just two years ago.
GROUP G
Group G sees Juventus take on Barcelona as well as Dynamo Kyiv and Ferencváros.
This group looks to be particularly thrilling due to the fact that football fans will witness one of the greatest rivalries within the game – Cristiano Ronaldo up against Lionel Messi!
Ronaldo potentially has the slight edge against Messi as he has secured five Champions League successes in comparison to Messi's four.
GROUP H
Group H is being labelled as the group of death, with the likes of  Manchester United up against Leipzig as well as Paris and İstanbul Başakşehir.
Group H looks to be a tough mix of clubs with Man United paired against last year's Champions League runners up Paris Saint-Germaine as well German giants, RB Leipzig and Turkish champions, Istanbul Basaksehir.
The reason for Man United's fate seems to come down to a broadcasting rule that Liverpool will not play on the same night as United. Regardless, this group will certainly provide fans with some intense football action if nothing else.
We can't wait to see the outcome of some of these 2020/21 Champions League fixtures and who will become the champion this time around!
https://www.eventmasters.co.uk/wp-content/uploads/2019/09/download.png
213
220
Alexis Parry
https://www.eventmasters.co.uk/wp-content/uploads/2021/01/eventmasterslogo-3.jpg
Alexis Parry
2020-10-01 10:15:52
2021-03-14 20:00:27
UEFA Champions League Groups A-H 2020/21