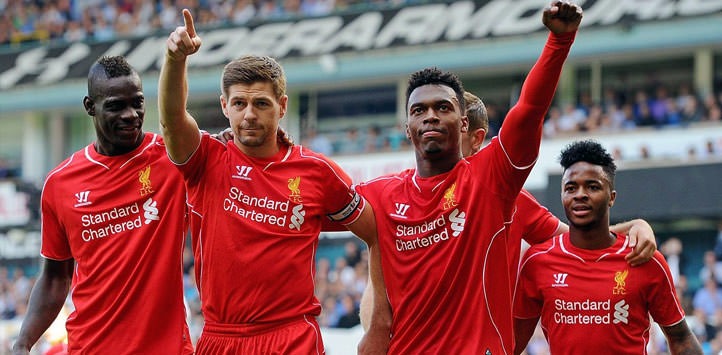 It is all change at Liverpool … and fans will be desperately hoping it is for the better. Eventmasters are delighted to provide Liverpool hospitality packages for the 2015/16 season. Our Liverpool hospitality packages offer you the ultimate match day experience at Anfield.
Already the Anfield side, a disappointing sixth in the Premier League, have agreed deals for Danny Ings and James Milner. Both were at the end of their existing deals, the 29-year-old Milner arriving on a free from Manchester City whilst in the absence of a settlement an independent tribunal will decide on the compensation due to Burnley for developing a player aged under 24 – Ings is 22.
Liverpool expect to pay about £6 million for the England Under-21 international, with Burnley wanting nearer the £10 million Tottenham Hotspur were supposedly willing to cough up. Both are considered astute signings by the Reds.
Milner is an England international, a clever player, a tireless worker, who is respected across football. He will bring craft and experience to a side now shorn of the legendary Steven Gerrard, departed for LA Galaxy – a great player though in a strange sort of way an exit which may lift a burden from the shoulders of others who were in awe of the star's immense talents and could now blossom away from his shadow.
The scorer of 11 Premier League goals last season, Ings offers a physical presence upfront, football intelligence, a fierce shot, the potential to develop further, and, like Milner, hard work. Is he good enough? Only time will tell.
Who else is coming in?
The pundits claim Liverpool manager Brendan Rodgers wants a new keeper to put pressure on the erratic Simon Mignolet. It is suggested that Bolton's Adam Bogdan could be the man – available on a free transfer. The Hungarian international has turned down Wanderers' offer of new terms, saying he wants to play for a top-flight club.
There is significant interest in Christian Benteke, albeit with some reluctance to meet the £32.5 million centre-forward's buyout clause in his contract at Aston Villa, while Southampton rejected a £10 million bid for right-back Nathaniel Clyne – that could yet be resurrected.
Definitely arriving is Belgium forward Divock Origi from Lille following a purchase and loan back last summer. And then there are a host of wildcards headed by reports claiming Liverpool have made an offer to Paris Saint-Germain for forward Ezequiel Lavezzi – possibly earmarked as the marque signing Rodgers claims he needs.
So, for forwards, Liverpool could have a choice of Ings, Daniel Sturridge (if he ever gets fit), Origi, possibly Benteke, the exciting Jordan Ibe and, dare we say it, Mario Balotelli. All very different from last summer's shambles.
Once Luis Suárez was on his way to a dream move and the treble with Barcelona, the forwards search started with Alexis Sánchez (preferred Arsenal), turned to Loïc Rémy (failed fitness test yet Chelsea took him) and ended in a choice of Balotelli or Samuel Eto'o, with deadline day looming.
At £16 million Balotelli proved a disaster scoring just one Premier League goal. Rodgers appeared to quickly decide that warhorse Rickie Lambert, brought in from Southampton was too old, Fabio Borini never looked the part and seems on his way out of the club, while Sturridge fell in love with the treatment table.
It left Liverpool playing Raheem Sterling up front too often – round pegs and square holes come to mind. And what of spoilt brat Sterling whose agent is openly agitating to get him a move despite two more years under contract?
The fans, from the Kop End to VIP corporate hospitality lovers, are heartily fed up of his antics and would be happy to see the back of him despite all his ability.
Liverpool appear to have three choices – sell him to the highest bidder and there are plenty of interested parties including, it is alleged, Real Madrid and Manchester City; teach him a lesson rotting in the reserves; or coax him into producing one final great year with a promise he can then move on.
One thing for sure – it will be a very different Liverpool which starts the 2015/16 season. And full marks to them for getting off the mark quickly in their transfer dealings. Far too early though to pass judgment on a summer window which has weeks to run.
There is still plenty Rodgers has to do – sort out the Sterling mess and decide the fate of Balotelli whose agent says he wants to stay.
Balotelli is an Italian international, he has massive talent and he is still only 24. Could Liverpool yet make something of him even though he does not appear to fit into the pressing style and was deemed unmanageable by no less a manager than Chelsea's Jose Mourinho?
Liverpool needs major improvement. Rodgers will pay the price if it doesn't happen, a Champions League place being the minimum requirement. Owners Fenway Sports Group will see to that.
Don't miss out on our Liverpool hospitality packages for the 2015/16 season, see every game at Anfield with our superb range of packages.
For more information please see our Liverpool hospitality packages page.
https://www.eventmasters.co.uk/wp-content/uploads/2015/06/01.jpg
355
722
Marco Ivanovich
https://www.eventmasters.co.uk/wp-content/uploads/2017/07/logo.jpg
Marco Ivanovich
2015-06-10 15:46:13
2016-01-13 14:10:44
Liverpool Hospitality Packages - Ings and Milner arrive at Anfield