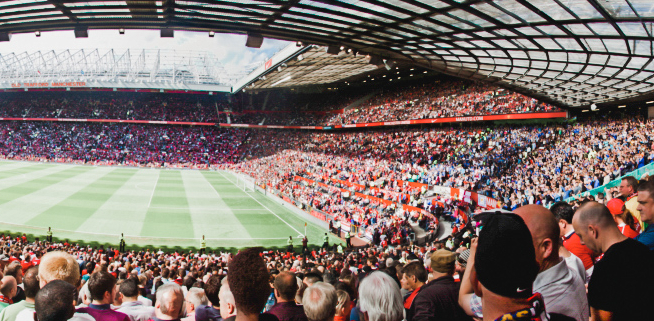 New Petition Calls for Fans to Return to Stadiums
Thousands are backing a new petition pleading for the government to reassess the return of football fans in stadiums.
It was a significant blow for football fans, as well as the EFL and Premier League, as Boris Johnson confirmed that a return to stadiums from 1st October would no longer be possible. The government indicated that it could potentially be another six months before fans could return to stadiums as a result of ongoing COVID-19 concerns.
The petition follows the Premier League's open letter to the Prime Minister calling for the safe return of fans to stadiums as soon as possible to avoid further financial distress.
The Premier League's urge appears to have become a catalyst for change as the new campaign to 'let fans in' has resonated significantly within the football community and across social media.
Take a look as we delve into the specifics of the 'let fans in' stadiums petition as well as the Premier League's appeal to the government.
What does the 'let fans in' petition entail?
The 'let fans in' petition pleas for football fans to attend matches at all levels. Currently, EFL and Premier League games for the 2020/21 are being played behind closed doors, and footballing bodies are asking for change.
The Premier League has anticipated that it will lose £500 million as a result of COVID-19. The government's decision to delay fans in stadiums is having a devastating impact financially, as well as fans who are desperate to cheer on their teams once again.
The 'let fans in' petition, was created by Ashley Greenwood. He outlined how football is a powerful tool which keeps many people in employment as well as the other range of benefits it can bring, such as morale and wellbeing. The main concern is that smaller clubs will go out of business, which will have a disastrous effect on many people.  
The government's decision not to allow fans back in stadiums from 1st October was met with heavy frustration, given that several successful EFL pilot matches took place just one week previously.
As a result, football fans are growing frustrated over inconsistencies within government policies. In particular, the decision to allow 3,000 audience members to a Christmas event at the Royal Albert Hall was met with both anger and confusion.
What was said in the Premier League's open letter?
The Premier League's recent open letter to the Prime Minister was signed by chief executive Richard Masters, EFL chief executive David Baldwin, FA chief executive Mark Bullingham and FA director of the women's game, Kelly Simmons.
The letter acknowledged how football is not the same when fans are not involved, with the teams lacking the connection and impact that only their supporters can bring.  
In response to the government allowing audiences at indoor venues, they accepted that it is substantial progress that cultural events can be conducted indoors in a socially-distance manner. However, they have argued that football should now be allowed to do the same, with football stadiums more than able to adhere to social distancing guidelines.
It was highlighted how outdoor venues such as football stadiums are more likely to be safer than the currently allowed indoor events. In the letter, they confirmed their dedication to making stadiums as COVID-secure as possible. Some of the measures that would be followed include:
Screening fans before they enter the stadium

Temperature checks

Masks to be worn at all times

One-way systems in the stadium

Deep cleaning practices

Matchday code of conduct
The letter was concluded by stating their determination to bring fans back to stadiums as soon as possible and working with the government to identify a pathway forward.
How will 'let fans in' petition progress?
It is a requirement for a petition to receive 100,000 signatures to be eligible for discussion within the House of Commons. At the time of writing the petition to let fans in has surpassed 160,000 so is now entitled to consideration.
We will closely follow the developments of this petition to let fans back into stadiums and will update this space once more information is available.
With so many backing the 'let fans in' campaign; hopefully, it won't be too much longer before we see the safe return of fans to stadiums.
An empty stadium is a loss on so many levels. In addition to the financial implications, an empty stadium lacks the passion, atmosphere and joy that can only be ignited when fans gather together.
We cannot wait for the day when we can once again unite and return to enjoying the sport we all love.
To sign the petition, please click here. 
https://www.eventmasters.co.uk/wp-content/uploads/2020/10/5709418605_a8f2769b49_o-1030x343-1-e1602080614992.jpg
342
654
Hannah Bayliss
https://www.eventmasters.co.uk/wp-content/uploads/2021/01/eventmasterslogo-3.jpg
Hannah Bayliss
2020-10-07 15:15:25
2021-07-29 13:43:21
New Petition Calls for Fans to Return to Stadiums