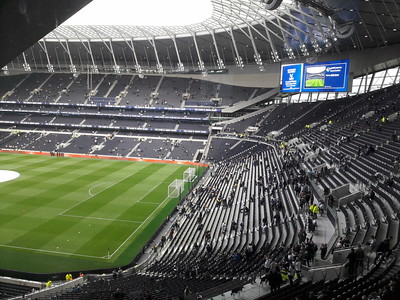 Pause on Fans Returning to Stadiums From 1st October
The rapid rise in COVID-19 cases has paused developments of fans returning to stadiums from 1st October. Cabinet Minister, Michael Gove, confirmed last week that an October return would not go ahead as anticipated, stating that a mass return 'would not be appropriate at this stage'.
Prime Minister, Boris Johnson's optimistic plans for a return to stadiums from 1st October was first revealed last July, providing a glimmer of hope amongst sports fans.
An imminent return of fans to stadiums began to seem doubtful as August saw multiple pilot events cancelled as a result of advancing COVID-19 fears. The government eventually stated earlier this month that plans for a return would be placed under review.
The disappointing news follows recently introduced tighter government restrictions, such as the 'rule of six' and 10 pm curfews. As COVID-19 concerns continue to evolve, what will the future be for fans and sporting events?
When will fans return to stadiums?
Given the rise in coronavirus fears, it is currently unclear as to when fans will be able to return to stadiums. However, Boris Johnson revealed that the restrictions could be in place for 6 months. The COVID-19 alert level has advanced to level 4, which is described as 'high or rising exponentially'. Gove stated that the increasing number of COVID-19 cases means that the programme must be paused for now.
Gove declared that the future of sporting events must be evaluated with caution, whilst also recognising sport to be a vital part of our nation. 'We're looking at everything we can do to support our athletes, our great clubs, through what will be a challenging time.'
It was initially anticipated that stadiums could return to 30% capacity from 1st October. As the UK began to see a spike in COVID-19 cases, there were talks that capacity could be reduced to just 1,000 fans. MP Steve Brine has now said that it is unlikely that fans will return until the beginning of 2021 as a result of 'stats going in the wrong direction'. Brine stated that although the sport is very much loved, it is 'not essential' and sacrifices have to be made this year.
The decision to delay the return of fans to stadiums has certainly encouraged mixed feelings amongst the British public. Many argued that the return of fans would be a threat to health and safety. On the contrary, West Ham chief, Karren Brady believes that just 1,000 fans in Premier League stadiums would be 'safer than your living room'.  
Will pilot events still go ahead?
It has been confirmed that the pilot events programme will also be paused as COVID-19 cases continue to rise.
The news is particularly disappointing for football fans, given that last weekend saw eight EFL matches take place, each with 1,000 fans in attendance.
Although it had been declared that the return date of 1st October was under review, the EFL pilot scheme provided some much-needed optimism for football fans. The pilot matches were a step in the right direction and indicated that an imminent phased return could be possible.
The government made clear that fans returning to stadiums would only go ahead following a run of successful pilot events. Fans will be eagerly waiting for pilot events to resume, so that progressions for the return of fans can continue once again.
How has COVID-19 impacted the Premier League?
Naturally, the biggest concern amongst the sporting and hospitality industry is the financial loss that COVID-19 has inflicted. Clubs have been asked to forecast what economic impact the absence of fans in stadiums will have on their business.
EFL Chairman, Rick Parry, stated how EFL clubs face losing £25 million for every month that matches are played behind closed doors. Similarly, Premier League clubs will likely lose around £100 million each month if fans are unable to return to stadiums.
MP Steve Brine has stated that the government will look to support lower-level football but not Premier League clubs that pay stars £600,000-a-week.
Julian Knight, chair of Digital, Culture, Media and Sport (DCMS) stated how fans being unable to return to stadiums could decimate the nation's sporting and cultural infrastructure. He called for smart solutions to be implemented to allow sports and live events to reopen gradually.
Unsurprisingly, the world of football is very frustrated by the government's decision to pause the return to stadiums as planned. Clubs were working towards a return from 1st October as indicated, only for the government to pull back at the last minute. As a result, the Premier League clubs are set to meet this week to discuss the cash crisis as a result of fans being unable to return to stadiums. The Premier League are said to continue to press the government for a new estimated date as well as an 'at the latest' date for when fans can return.
The delay of fans returning to stadiums is a substantial disappointment to both sports fans and the sporting industry as a whole. Once again, the nation faces a time of uncertainty, as it remains unclear how and when the situation will improve.
Once the day in which it is safe to gather at sporting venues arrives, we will be there to provide you with exquisite hospitality experiences once again.
https://www.eventmasters.co.uk/wp-content/uploads/2020/07/32564412397_73c1c91e0b_w.jpg
300
400
Hannah Bayliss
https://www.eventmasters.co.uk/wp-content/uploads/2021/01/eventmasterslogo-3.jpg
Hannah Bayliss
2020-09-22 14:48:27
2021-03-14 20:04:06
Pause on Fans Returning to Stadiums From 1st October