Food & Drink at Cheltenham Racecourse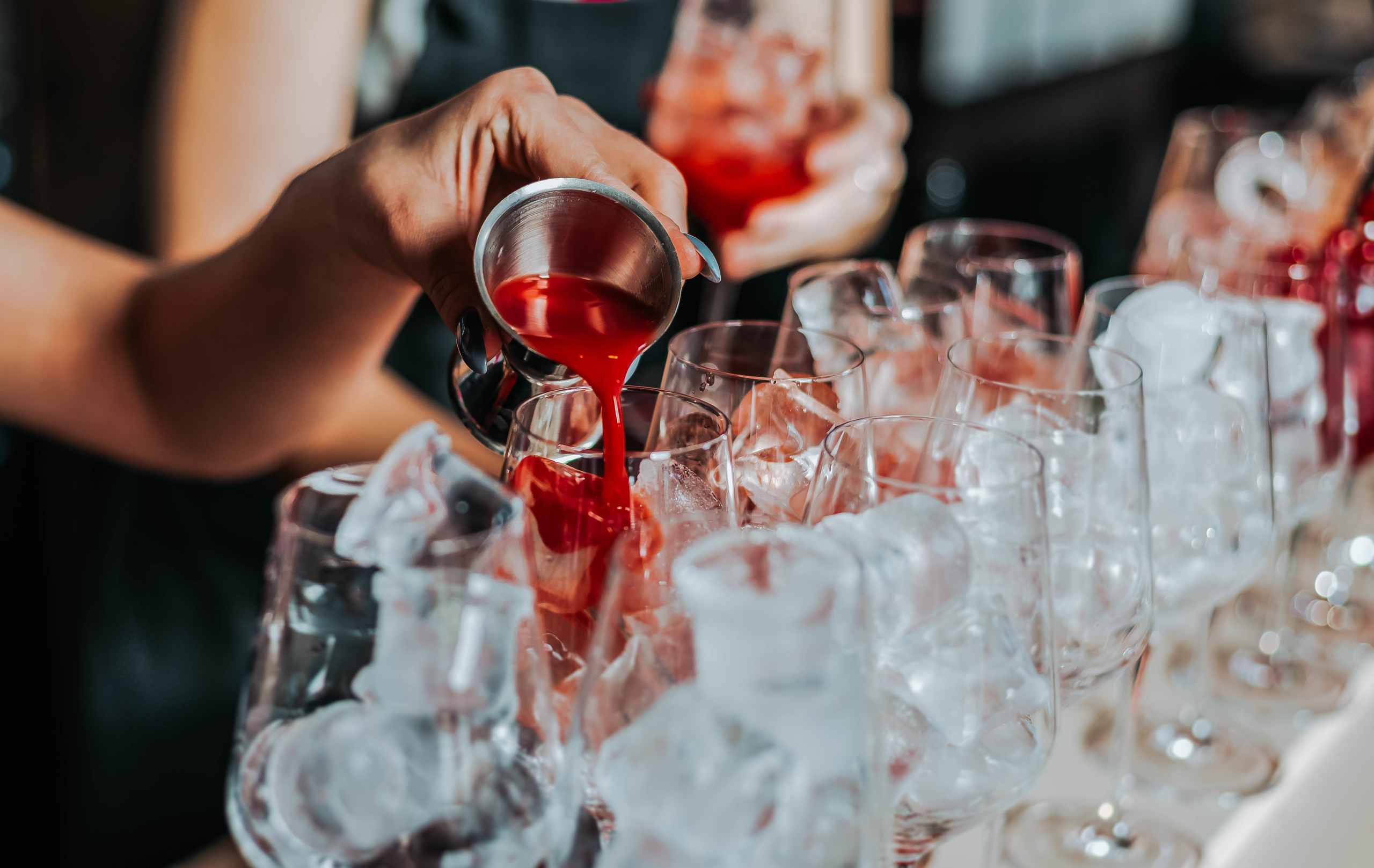 Photo: Red Russian Cocktail mit viel Eis by Marco Verch under Creative Commons 2.0
Want to know more about the different food and drink options available at the Cheltenham Festival? Well, we've put together a list of all the food stands and restaurant choices in the Club, Tattersalls and Best Mate Enclosure which you can access across the four days.
Whilst there are an extremely wide range of catering units available at Cheltenham Racecourse, what they offer can vary meeting to meeting, though most will typically sell fish and chips, pizza, hog roasts, burgers and a range of sandwiches as well as hot and cold drinks, confectioneries and savoury snacks.
A majority of restaurants and food stands also cater for specific dietary requirements such as coeliac and gluten-free.
Where Can I Find Food & Drink at Cheltenham Racecourse?
CLUB ENCLOSURE
If your tickets or hospitality package provides you access to the Club Enclosure, these will be the food and drink options available to you:
The Mandarin Bar, Tom's Pies, Hall of Fame Coffee House, Tommy's Coffee House, Tommy's Shack, Quevega's as well as number of other Champagne bars and the Guinness Village.
Those with Club Enclosure badges, or tickets will also have exclusive access to The Orchard at Cheltenham, which was new area for 2019 and home to Ciderland, which is an innovative whisky bar. You'll find a number of other branded bars in The Orchard too, all serving cocktails and special delicacies.
TATTERSALLS ENCLOSURE
With Cheltenham Tattersalls Enclosure tickets or packages, you'll have access to all the food outlets and bars available to Club Enclosure holders with the exception of The Orchard.
BEST MATE ENCLOSURE
Whilst the Best Mate Enclosure doesn't grant the ticket holder access to the Guinness Village, The Park, The Festival Lounge, The Shopping Village or The Orchard™ at Cheltenham, there are still a number of food bars and outlets available to you.
Aside from a full selection of mobile outlets, you'll also find the Desert Orchid, Dawn Run, Pavilion Bar and Jim's Real Ale Bar within this enclosure.
Hospitality
One way to enjoy food at the races is to upgrade your package to include all-inclusive hospitality. As Official Hospitality Suppliers (OHS) appointed by directly by Cheltenham Racecourse, we offer a number of hospitality packages for races at Cheltenham which will leave you spoilt for choice.
Our hospitality facilities for the Cheltenham Festival are guaranteed to fine dine and wine you as they offer the finest culinary experiences and being in prime location to the action on track – no racing moment will go unmissed!
Our flagship facility – Silks, offers panoramic views of the Racecourse, complete with a four-course luncheon with selected wines, followed by port and brandy, full afternoon tea, a complimentary bar of beers, wines, spirits and soft drinks available throughout the day as well as a number of other luxuries.
We also have The Venue, which is a perfect option for those after a more relaxed atmosphere. Located in the Official Hospitality Village at Cheltenham Racecourse, guests within this facility will indulge in a four-course lunch, afternoon tea and a complimentary bar as well as live entertainment – expect the party anthems to be pumping.
Private Boxes
Our Private Grandstand Box is our most premium facility, providing you with breath-taking views of the racing action from your own private balcony. Enjoy fine foods, a complimentary bar, a Champagne reception and Club admission badges, which will grant you access to all the VIP areas including The Orchard!
The Long Run Private Box caters for up to 40 racegoers, making it the ideal suite for larger parties. This lavish hospitality package comes complete with Club admission badges, a four-course luncheon, afternoon tea and a complimentary bar.