Sporting Luncheons Hospitality and Tickets
Sporting luncheon hospitality packages and corporate tickets are a fantastic way to entertain your important clients and guests. With a relaxed atmosphere and renowned guest speakers you are sure to enjoy an unforgettable afternoon with Eventmasters in 2017.
One of our flagship events is the annual Midlands Sportsmans Luncheon which continues to sell out each year and creates a wonderful festive atmosphere for all the guests to enjoy. Birmingham's finest sporting lunch has a history of attracting the biggest names in rugby and in 2016 Eventmasters were delighted to be joined by Phil Vickery MBE as our guest of honour at the Macdonald Burlington Hotel. At the 28th anniversary in 2017, you can expect another Rugby Legend to grace the afternoon with tales and anecdotes of their illustrious career.
Entertain your valued clients with VIP corporate hospitality at the biggest sporting luncheon events in the UK.
FEATURED EVENT: 28th ANNUAL MIDLANDS SPORTSMANS LUNCHEON
28th Annual Midlands Sportsmans Luncheon Hospitality
Wednesday 20th December 2017 Our highly rated Rugby-Themed Midlands Sportsman's Luncheon held at the Macdonald Burlington Hotel in Birmingham will be celebrating its 28th Anniversary this December. It is an ideal opportunity for a company Christmas party or to entertain the Rugby fans among your important clients with tales from a Rugby legend guest speaker as well as a renowned after-dinner comedian.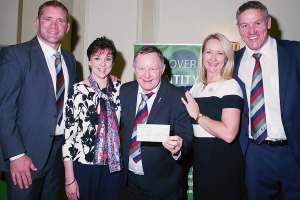 Sporting Luncheon VIP Packages and Hospitality – Midlands Sportsmans Luncheon returns for 28th year in 2017
In December 2017 the highly rated Midlands Sportsmans Luncheon will enjoy its 28th anniversary. The rugby-themed sporting luncheon continues to be one of the most popular events of the hospitality calendar and regularly attracts the biggest names in the sport.
Whether you are hosting a Christmas party or entertaining your important clients and stakeholders this is event is sure to provide you with an unforgettable afternoon.
The sporting luncheon takes place at the fabulous Macdonald Burlington Hotel in the centre of Birmingham. This historic venue is one of the finest hotels in Birmingham and is located just a short walk away from the stunning New Street Station.
Enjoy fine dining with a superb four course lunch, which is followed by our brilliant Heads or Tails auction game and a silent auction with proceeds going to a nominated charity. But the real highlight of the event are the outstanding guest speakers and guests of honour.
Our regular Master of Ceremonies is former England and British Lions international Tim Stimpson, who provides great insight into the game of rugby.
In 2016 our guest speaker was former England and British and Irish Lions international Phil Vickery MBE. He joined an illustrious list of former guests which includes; Jason Leonard OBE, Will Greenwood MBE, Ben Kay MBE, Will Carling OBE, Gavin Hastings OBE, Ieuan Evans, Rob Andrew MBE, Dean Richards, Jeremy Guscott, Sir Ian McGeechan and World Cup winning captain Martin Johnson CBE.
The Midlands Sportsmans Luncheon is a fantastic way to enjoy an afternoon of wonderful hospitality.
Live Screenings of the biggest sporting events of the year 
As well as running sporting luncheons, Eventmasters are also delighted to provide a range of live screenings of big sporting events. Recently we have hosted a number of live screenings of major England football matches.
For the 2016 European Championships we hosted a live screening of England's hotly anticipated group clash with Wales. We had Gary Newbon as our MC with Neville Southall MBE and Ron Atkinson for what was a wonderful afternoon's entertainment. During the 2014 World Cup we also hosted a screening of England's match with Costa Rica.
With highly renowned guest speakers from the world football and fine dining, you can enjoy VIP treatment to go along with the action.
Live screening events provide you with a chance to entertain valued guests without having to leave the country. The hospitality on offer is of the highest order and ensures that you and your guests will have a memorable afternoon.
Don't miss out on our fantastic range of sporting luncheons in 2017.