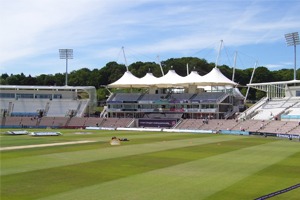 Ageas Bowl Hospitality Packages
Official Cricket Hospitality Packages at Ageas Bowl in 2024
Eventmasters are delighted to offer official corporate hospitality packages for Cricket fixtures at the Ageas Bowl.
The home of Hampshire CCC will host England v Australia in 2024.
Look forward seeing Joe Root, Ollie Robinson and Jos Buttler,  as England goes bat-to-bat with New Australia in 2024! Enjoy the fantastic atmosphere and world-class cricket at the Ageas Bowl in VIP style.
We can provide you with a wide range of packages that offer you the perfect chance to entertain your valued clients and guests at these hotly anticipated fixtures.
Display 20 Products per page
---
Official Ageas Bowl Corporate Hospitality Packages
The Ageas Bowl (also known as the Rose Bowl) is one of English Cricket's most picturesque venues and is the home of Hampshire County Cricket Club.
Built in 2000 and designed by award-winning architects Michael Hopkins & Partners, the ground has become one of the most popular in the UK and hosted it's first Test Match in 2011 as England faced Sri Lanka.
Initially, the Ageas Bowl was built to replace Hampshire's previous ground which was the County Ground in Southampton. Their first match played at the Ageas Bowl was in May 2001 and was against Worcestershire. Hampshire went on to achieve their first win at the grounds, winning by 124 runs.
Since its opening, the Ageas Bowl has hosted many international cricket fixtures including One Day Internationals, various test matches and even the 2004 Champions Trophy. It hosted England's first Twenty20 international against Australia in 2005, alongside many thrilling day/night fixtures against Australia and Pakistan in 2010. In 2011, the ground became England's tenth Test venue, when they faced Sri Lanka in mid-June.
In 2008, the Ageas Bowl was redeveloped for £24 million which allowed more stands to be built to increase overall capacity. As a result of this, the grounds were able to host more test cricket fixtures. Additionally, a fabulous four-star Hilton hotel was also integrated when the grounds opened in 2015.
Without a doubt, the Ageas Bowl is a renowned cricket ground and distinct in nature. It is shaped like a circular amphitheatre and possesses a grand three-story pavilion that has a canopied roof – a great piece of architecture.
We are delighted to offer official corporate hospitality packages for 2024 Cricket fixtures at this ground.
Interested in Ageas Bowl Hospitality Packages?
Complete this form to register your interest:
If you are interested in any of our hospitality packages, our event specialists are ready to help you make your day memorable. Complete this contact form and we will be in contact shortly.