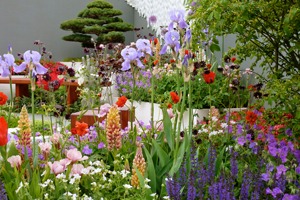 Corporate Hospitality Packages at the Royal Hospital Chelsea
Enjoy the RHS Chelsea Flower Show with VIP Tickets & Hospitality in 2021
The Chelsea Flower Show has a rich history and is celebrated annually by horticultural enthusiasts from around the world. Experience this iconic event in fabulous style with VIP tickets and hospitality in 2021.
Situated in London's exclusive Kensington Borough, the Royal Family and the world's finest horticulturalists flock to attend the prestigious flower show. It is certainly an idyllic setting to entertain your esteemed clients and guests. A relaxed, sociable atmosphere greets guests whilst they take a delightfully casual stroll through the picturesque gardens and displays, soaking up the vibrant colours and alluring fragrances.
Ranging from traditional to contemporary, the garden displays at the RHS Chelsea Flower Show are fantastically diverse and exciting with tropical foliage, water displays and bursts of dazzling colour. There is certainly something for everyone, whatever your tastes, you will be sure to find plenty to enjoy.
Tuesday 21st September – Sunday 26th September 2021
Display 100 Products per page
---
About RHS Chelsea Flower Show
The spectacular event formally known as the Great Spring Show is a garden show like no other. If you are a fan of horticulture and gardening then this most certainly is the event for you. Spread out over 5 days it offers the perfect opportunity to soak up the summer months in sublime style. It has long made its stand in history and could be regarded as the most famous flower show in the world
The stunning landscapes are the perfect backdrop to enjoy a summers day. Held at Chelsea since 1912 it has long been a statement of the social calendar.
Stand Out Exhibitions
There have been many stunning displays over the years at the Chelsea Flower Show. Many of which are quite extraordinary. Some standout displays to mention include the 2016 crochet poppy display. This presented over 300 handcrafted crocheted poppies over 2000 square metres of space. The design was conceptualised by Phillip Johnson and with the help of 50,000 contributors, his vision came to life.
The 1959 display of The Garden Of Tomorrow was another standout. The radio-controlled lawnmower was a cool addition and attracted many visitors to explore the exhibit further.
We can't wait to see what exhibits will be showcased in 2021.
Awards
There are many awards showcased at the event that are prestigious and renowned in their own right. For any garden enthusiast winning an award for a display at Chelsea Flower Show will no doubt be a highlight. Special awards include Best Show Garden, RHS President's Award, Best City Garden Award and RHS Junior Display Trophy to name a few.
Chelsea Flower Show 2021
You can experience all the thrills and excitement from Chelsea Flower Show in 2021 in true style. The sublime facilities are the perfect destination to host your VIP hospitality experience. You can indulge in the finest foods and drinks in stunning facilities. There's a wide range of packages to choose from that will ensure your guests enjoy a VIP experience.
Our packages include the La Tulip, Le Jasmin and Le Sunflower.
Book your 2021 Chelsea Flower Show Hospitality Today