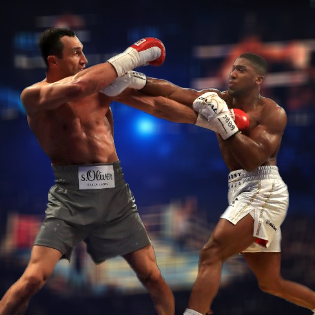 Boxing Hospitality Tickets and VIP Packages
Eventmasters are delighted to offer official boxing tickets and hospitality packages for some of the UK's most highly anticipated boxing events. We pride ourselves in offering VIP hospitality packages for high-profile boxing matches at several venues, including Tottenham Hotspur Stadium, Wembley Stadium, and the Principality Stadium.
We're delighted to provide official Tyson Fury v Oleksandr Usyk hospitality packages

There is no better way to experience world-class boxing action in VIP style than with Eventmasters Boxing Hospitality Packages.
Watch all of the action unfold from one of the largest and most famous sporting stadiums in the country and the world.
In 2023, you will be able to witness a titanic contest between two of the best boxers in the sport; two heavyweights of boxing Tyson Fury (Great Britain) & Oleksandr Usyk (Ukraine).
Experience Boxing in the best way possible with our VIP Boxing Hospitality.
Display 20 Products per page
---
Wembley Stadium Boxing Hospitality Packages
Wembley is one of the world's most iconic sporting event venues. It celebrates its 100th anniversary in 2023.
The first boxing match at the original Wembley was between Jack Bloomfield and Tommy Gibbons on 9th August 1924, bringing with it 50,000 fans. The match was won by Gibbons, who claimed victory via knockout.
Muhammad Ali, one of the most famous boxers of all-time, fought at the stadium at the start of his career in June 1963, facing another legendary boxer – Henry Cooper. Ali won the fight in the fifth round after a tense and memorable battle for everyone in attendance.
It took until 31st May 2014 for the modern Wembley Stadium to host its very first boxing match. It was a re-match fought between two legendary super-middleweight boxers – Carl Froch and George Groves. They were looking to be the holder of the WBA and IBF super-middleweight titles.
You will not want to miss any of the action with our official Boxing Hospitality Packages. 
Some of our boxing hospitality tickets can be combined with accommodation and/or travel options. Please get in touch with us with your specific requirements.
---
Interested in Tyson Fury v Oleksandr Usyk  Hospitality Packages?
Tyson Fury v Oleksandr Usyk
Are you interested in Fury v Usyk? One of our Boxing specialists are ready to help you secure your hospitality packages - Complete this contact form and we will be in contact shortly.