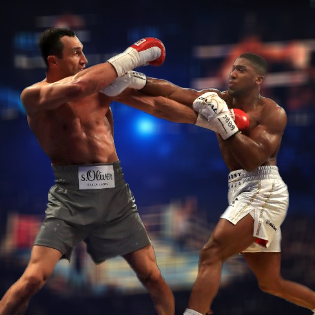 Boxing Tickets and VIP Hospitality Packages
Some of our boxing hospitality tickets can be combined with accommodation and/or travel options. Please contact us with your specific requirements.
Eventmasters are delighted to offer official boxing tickets and hospitality packages with accommodation and travel, for some of the UK's most highly anticipated events. We pride ourselves in offering VIP hospitality packages for high-profile boxing events at a selection of venues including Tottenham Hotspur Stadium,Wembley Stadium, and the Principality Stadium.
We look forward to welcoming fans to the World Heavyweight Championship bout between Anthony Joshua and Oleksandr Usyk on Saturday 25th September 2021.
Witness some of the biggest fights in the UK with Eventmasters official VIP boxing tickets and hospitality packages – guaranteed to offer a memorable experience.
Anthony Joshua v Oleksandr Usyk Event Details
Date: Saturday 25th September 2021
Tottenham Hotspur Stadium Opens: 5pm
Last Event Ends: 11pm
Premium Hospitality Closes: Midnight
Display 100 Products per page
---
Enjoy some of the biggest box office events in the UK with our VIP Boxing Tickets & Hospitality Packages
As part of our Boxing Hospitality packages, guests will get the opportunity to see the biggest names in boxing go round-by-round at the country's most prestigious stadiums.
Eventmasters previously provided corporate hospitality for the world title unification clash between Anthony Joshua and Joseph Parker at the Principality Stadium in Cardiff on March 31st. We now look forward to providing VIP boxing hospitality tickets for the Anthony Joshua v Oleksandr Usyk showdown on 25th September 2021.
The champion and challenger go head-to-head at the state-of-the-art Tottenham Hotspur Stadium, the stadium's first-ever boxing bout hosting. With Anthony Joshua putting his IBF, IBO, WBA and WBO titles on the line against the undefeated Oleksandr Usyk – this is a fight you'll want to mark in the diary.
Challenger, Oleksandr Usyk is arguably one of the most formidable pound-for-pound fighters in boxing. Not to mention the man standing in the way of the highly anticipated Fury v Joshua match!
While some fans may be slightly disappointed, given that the Anthony Joshua v Tyson Fury fight has been put on ice, don't doubt that this match won't live up to high expectations! Joshua returns to London for his 5th stadium fight to create even more history at Tottenham Hotspur Stadium and Eventmasters are excited to offer boxing tickets and VIP hospitality packages for this highly anticipated match.
Spectators can expect a statement performance from both athletes and high-quality hospitality to complement the experience – you can't take your eye off the ball for this one!
Eventmasters last provided hospitality for Joshua's stadium match in Cardiff. For the first time in history, Anthony Joshua and Joseph Parker, two undefeated heavyweight champions, battled in the United Kingdom. Joshua won the WBA, IBF, and WBO titles in a 12-round majority decision.
SSE Arena, Wembley hosted AJ's most recent stadium match against Kubrat Pulev. Joshua dominated once again, knocking out Pulev in the ninth round of their championship fight.
But it's not only the action in the ring that's worth savouring. With VIP boxing tickets, guests enjoyed a night of splendid action and luxurious corporate hospitality combined.
Joshua previously met with Russian contender Alexander Povetkin at Wembley Stadium on Saturday 22nd September 2019, in a contest that exuded flair and unrivalled tenacity. Joshua reigned victorious once again, and Eventmasters VIP hospitality guests were there to experience the thrills of what was an intense fight at Wembley.
Wembley has undoubtedly proved a happy hunting ground for the 31-year-old. It was the scene of his historic triumph over legendary Champion Wladimir Klitschko in April 2017. He produced the performance of a lifetime to claim the WBA crown in an unforgettable battle in front of a post-war record crowd of 90,000.
Sapphire and Platinum hospitality packages are available at Wembley Stadium for boxing events. Both options provide splendid match seating and an incredible VIP experience that includes a range of complimentary drinks and dining options.
With places usually in such high demand, be sure to secure your package in time. Please don't hesitate to contact us if you are looking for boxing tickets and hospitality this year. Use the Enquiry button to submit your question or alternatively call 020 7989 6500 to speak to one of our experts.