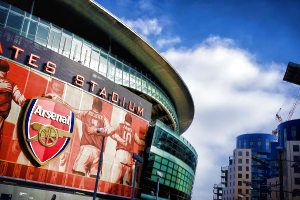 Arsenal Hospitality – Emirates Stadium
Experience the ultimate match day at The Emirates Stadium with our official Arsenal hospitality packages including Premier League, UEFA Europa League, Carabao Cup (League Cup) and FA Cup fixtures.
Treat your clients to the finest hospitality packages for Arsenal's games from the Club Arsenal and Superbox facilities. Both offer you first-class hospitality, outstanding views and an unforgettable day for you and your guests to witness the current FA Cup champions in action!
We are very much looking forward to fans being allowed back into Stadia, which with a fair wind should be late Summer/Autumn 2021. As soon as we are advised accordingly specific details on individual fixtures will be available. Thank you for your patience.
Display 20 Products per page
---
Enjoy the finest Arsenal hospitality packages with Club Arsenal and the Superbox at the Emirates Stadium
If you are looking to entertain your valued clients and guests at one of the Premier League's finest arenas, look no further than The Emirates Stadium, home of The Gunners.
For the 2020/21 season we are pleased to continue to offer the very best corporate hospitality packages as an authorised reseller of Arsenal FC hospitality.
Enjoy superb hospitality at your own leisure with the Club Arsenal hospitality package for all fixtures at the Emirates Stadium. This package offers first class cuisine upon arrival, along with a complimentary bar throughout and of course some of the best seats in the house to view all the action.
For those looking for a unique facility at The Emirates Stadium The Superbox experience is available for all home fixtures.
At nearly three times more space than a standard executive box this facility provides a luxury environment in which to entertain guests in an exclusive suite. The Superbox will perfectly meet the requirements of your most discerning clients.
Staffed by a skilled service team, the utmost privacy and excellent facilities, you will have a unique setting to entertain your guests for the entire match day.
Don't miss the chance to enjoy fantastic match-day Arsenal hospitality at the Emirates Stadium for the 2020/21 season. Your important guests and clients will be treated to a VIP Arsenal hospitality experience combined with excellent seats to watch the Gunners in action.