Ascot Racecourse – Renowned for Royal Ascot
The UK's Most Prestigious Horse Racing Venue
Ascot Racecourse is a leading horse racing venue located in Ascot, Berkshire. Conveniently situated in gorgeous wooded countryside near the Royal beauty that is Windsor Great Park. This prestigious course retains a major name in the sporting world due to its close ties with the Royal Family. The beautiful racecourse features well-groomed lawns and terraces, balconies with superb views, tasteful tea rooms and fine dining restaurants.
The prized horse racing location boasts a large thirteen of Britain's thirty six annual Group One horse races – the highest level of thoroughbred and standard-bred flat races. The racecourse currently stages twenty six days of racing throughout the year, including eighteen flat meetings held between the months of May and October. Additionally, it also hosts significant jump racing fixtures during the jump season.
As an Official Hospitality Supplier (OHS) directly appointed by Ascot Racecourse we are delighted to provide exclusive Ascot Corporate Hospitality Packages and tickets for numerous race days in 2021 and 2022.
Including Royal Ascot, which is without a doubt the highlight of the calendar. The highly prized event is even often regarded as the 'jewel on the crown' of Ascot Racecourse. Alone, Royal Ascot holds an astounding eight Group One races spread across its five spectacular days of unparalleled action.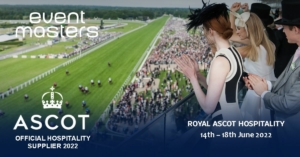 Ascot Racecourse Hospitality
Ascot Racecourse is undoubtedly one of the finest racecourses in the World. No matter the meeting, you can expect style and flair both on and off the course, and hospitality of the highest quality. We have a range of facilities available, particularly during Royal Ascot, including fantastic course facing options as well restaurants and private boxes. Treat your important guests and clients to the experience of a lifetime; they won't be disappointed.
As well as QIPCO British Champion's Day. Another phenomenal landmark race day held at Ascot Racecourse every year. This winter race day is often thought of as the grand finale of the flat racing season in Britain and thus attracts some of the world's finest horses.