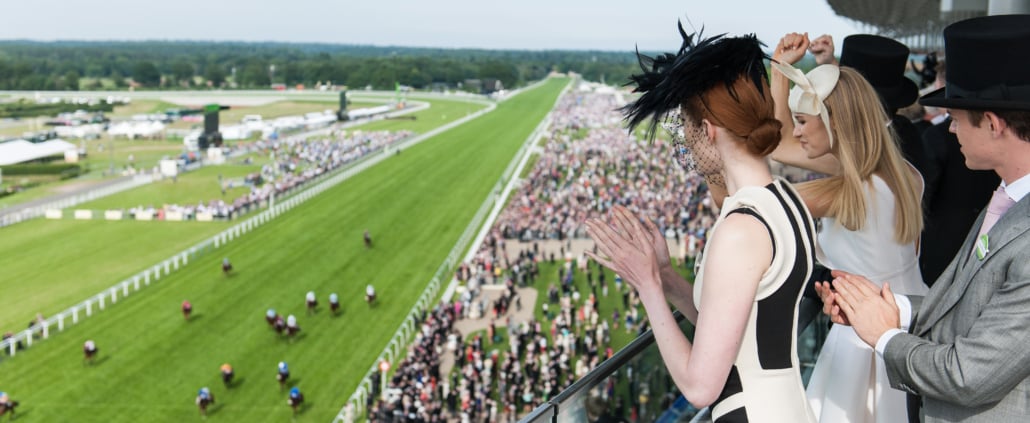 Royal Ascot Hospitality Packages – Ascot Racecourse 2024
Official Royal Ascot Hospitality Packages
Royal Ascot Dates: Tue, 18 Jun 2024 – Sat, 22 Jun 2024
R-

As Official Hospitality Providers (OHS) directly appointed by Ascot Racecourse, Eventmasters are delighted to offer our full range of the very finest Royal Ascot Hospitality Packages in 2024.
The Royal Meeting takes place at Ascot Racecourse every year and is synonymous with elegance, style, sophistication and world-class sport.
This meeting is the biggest of the flat racing season in the UK and hosts an astonishing eight group one contests spread across five glorious days of unrivalled action. Royal Ascot corporate hospitality packages are available for all five days of the 2024 Royal Meeting, including the always popular Royal Ascot Ladies Day.
Everything at Royal Ascot is to the highest standard. From the moment the Royal Procession begins until the end of the day, you will experience the very best in corporate hospitality.
With exquisite fine dining and outstanding service in some of the finest hospitality facilities in the world, Royal Ascot corporate hospitality packages are the only way to be part of this prestigious event.
Display 20 Products per page
---
Royal Ascot Hospitality 2024 – Corporate Packages and VIP Tickets including Ascot Pavilion 1, The Gallery and The Lawn Club
Experience Royal Ascot Hospitality – Ascot Racecourse VIP Tickets & Packages in luxurious VIP style with our official Royal Ascot corporate hospitality and VIP tickets at Ascot Racecourse. In 2024 the Royal Meeting will once again represent the biggest event of the British horse racing season – attracting the very best horses from around the world.
Royal Ascot truly is an event like no other, with 18 group races throughout the week including eight Group One events – it offers the highest level of flat racing. Eventmasters Royal Ascot corporate hospitality packages give you some of the best views of all the action, while still providing the very best hospitality for you and your valued clients.
Our flagship Royal Ascot corporate hospitality facility is the fabulous Ascot Pavilion – one of the finest facilities at Ascot Racecourse.
The Ascot Pavilion facility is synonymous with elegance and sophistication. The illustrious building combines the rich heritage of Ascot with fabulous sweeping views across the Plaza towards the Parade Ring; an idyllic setting from which to enjoy the delights of Royal Ascot and socialise with your valued clients. With its delightful menu and location, this facility is, without doubt, of exceptional value.
We are delighted to offer official Royal Ascot corporate hospitality packages in the Carriages Restaurant, Ascot Village, The Village Chalet and The Lawn Club. All of these superb facilities will provide you and your important guests with an unforgettable day and a return on your investment.
We also offer hospitality packages for the Panormaic Restaurant, Holyroodhouse and Private Box.
Follow our Royal Ascot News Page and take a look at our Ascot Fixtures & Event Guide for all the latest updates and news.
See our Royal Ascot 'Frequently asked questions' below:
Are your tickets and VIP hospitality packages available for Royal Ascot 2024?
YES our 2024 Hospitality Packages are now available in all our facilities at Royal Ascot 2024. Simply select the required facility and you can now book online, but hurry our facilities are already selling fast for next year.
What do I need to bring with me in order to attend Royal Ascot?
To gain entry, you must bring your digital ticket and please note that you will also need to bring your royal enclosure badge, restaurant badge or membership badge with you.
When do the gates open for Royal Ascot?
Gates to the Ascot Racecourse will open at 10:30am each day.
Will there be accessible viewing areas?
Yes, there is a dedicated accessible viewing area in each of the racecourse. Each Royal Ascot enclosure has access to an area of the rail and front lawns in order to view the racing at Royal Ascot on the track and big screens.
What is the dress code?
For the Royal Enclosure, gentlemen are required to wear either grey, black or navy morning dress. Ladies are advised to wear formal daywear. In the Queen Anne enclosure, formal wear is required, including a suit with a collared shirt and tie for gentlemen.
Finally for the Village Enclosure, Ladies and gentlemen will need to wear formal attire, and the dress code in this enclosure is similar to the Queen Anne enclosure.
What time does the racing start at Royal Ascot?
The racing at Royal Ascot beings at 2:30 every day of the meeting.
What time does the horse racing finish at Royal Ascot?
The day's racing normally concludes at 18:10 and is followed by the tradition of singing at the bandstand after the racing has finished
Is Afternoon Tea included in your hospitality packages for Royal Ascot?
Yes, some of our hospitality packages include full afternoon tea served with Moet & Chandon Rose Imperial Champagne. We have a number of hospitality options for Royal Ascot 2024 please take time to view them on our website and see which offer you and your guests the best options.
Can you help with special dietary requirements?
Yes we can take into consideration your dietary needs and requirements – please make these known to us when booking your hospitality packages.
---

Reg
ister for Royal Ascot Hospitality – Priority Alerts:
Ascot Racecourse
Our Ascot Hospitality Team are ready to help you plan your day at Ascot Racecourse - Complete this contact form and one of our Ascot Specialists will be in contact shortly.