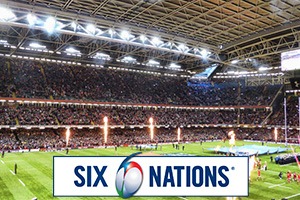 Six Nations Hospitality Packages in 2024
Enjoy our Six Nations hospitality packages for upcoming games at Aviva Stadium, Scottish Gas Murrayfield, Principality Stadium, Stadio Olimpico and Twickenham Stadium
When watching some of the biggest rugby teams in the Southern Hemisphere compete for the 2024 Guinness Six Nations title, why not enhance your matchday and wow your clients with a VIP entertainment facility?
Witness some of rugby's most prominent international fixtures with our Guinness 6 Nations hospitality packages for matches being played at at Scottish Gas Murrayfield (formerly known as BT Murrayfield), Aviva Stadium, Principality, Stadio Olimpico and Twickenham.
Display 20 Products per page
---
Guinness Six Nations Fixtures for England, Wales, Ireland, Italy and Scotland in 2024
---
England Six Nations Hospitality – Twickenham Stadium
See England Rugby in action with VIP Guinness Six Nations rugby hospitality packages at Twickenham. Our Twickenham Stadium hospitality is available for England v France, England v Ireland and England v Wales. Six Nations fixtures boast a fine dining experience and insight from former England and British & Irish international Tim Stimpson.
The rivalry between England and domestic sides, France, Ireland and Wales promises fans on either side a thrilling encounter. Can England take home the victory on the hallowed Twickenham turf?
Experience the electrifying atmosphere of England rugby at the world's finest test match arena alongside a VIP Guinness Six Nations rugby hospitality package. There really isn't anywhere in the world like Twickenham. From the national anthem to the roar of the crowd and the sound of Swing Low echoing around the packed stands – the Twickenham experience is a truly special one for all England fans.
Ireland Six Nations Hospitality
Ireland has been instrumental in some brilliant rugby union internationals, known for having the ability to raise their game, particularly against England – the ultimate clash expected for the Six Nations series in 2024!
In 2024, the Guinness Six Nations Series welcomes Italy, Wales and Scotland to the Aviva, and Eventmasters are delighted to offer guests and supporters a day to remember with cutting-edge hospitality.
For Ireland rugby fixtures, guests can enjoy the luxurious Clayton hotel, which offers the finest in Irish Rugby hospitality, where pre-match lunch, post-match hot buffet and complimentary drinks are provided.
The Aviva Stadium is also a fantastic venue with a capacity of 51,700, it turns into a fantastic amphitheatre for matches – no matter the result.
Scotland Six Nations Hospitality – Scottish Gas Murrayfield Stadium (formerly known as BT Murrayfield)
In December 1870, Scotland challenged the English to a match under Rugby rules… and they have been challenging all-comers ever since.
The contest took place at Academical Cricket Club's ground at Raeburn Place, Edinburgh, on Monday, March 27 the following year, in front of around 4,000 spectators.
Scotland won, and it set in train a rivalry which lasts to this day, both sides playing annually for the Calcutta Cup. It was donated to the Rugby Football Union in 1878 by the short-lived Calcutta Rugby Club members.
At Murrayfield, Scottish rugby has always been known for its passion and commitment. The fans' hospitality is known worldwide. But, primarily a footballing nation, there have always been limited numbers to pick from though Edinburgh and the Borders have always been strong.
Perhaps Scotland's rugby team's most extraordinary modern era came in the late 1980s and early 1990s at Murrayfield.
Scottish rugby has produced some fantastic players down the years.
And may many more follow in their footsteps. Six Nation ticket holders at Murrayfield can expect Scotland to come back stronger and more committed to winning to lift the Calcutta Cup at Scottish Gas Murrayfield in 2024! Make it a trip to remember at Scottish Gas Murrayfield.
Don't hesitate to book our Guinness Six Nations hospitality today at Scottish Gas Murrayfield Stadium!
Wales Six Nations Hospitality – Principality Stadium
Rugby is Wales' national game and, as anyone entering the Principality Stadium in Cardiff will know, it is taken extremely seriously.
It is all about pride in traditions. As the crowds pour through the turnstiles, taking full advantage of the great hospitality and camaraderie on offer, there is a fantastic sense of anticipation.
Nerves are jangling. Everyone is on tenterhooks. All the better because the stadium is at the heart of the city – everything is pretty much within walking distance. It breeds a wonderful atmosphere.
Wales biggest ever Guinness Six Nations win was against Italy in 2016, where they defeated their European rivals 67-14. 2022 was no different as Wayne Pivac's men dominated once more, defeating Parisse's men 26-15 to add another win to the scoreboard.
With our first-class hospitality options on offer, we will ensure that your important clients and guests have a fabulous day out when watching the Guinness Six Nations rugby fixtures in 2024.
With Wales, you can be guaranteed of enjoying a feast of world-class rugby. Will you be visiting the Principality for the Guinness Six Nations?
Italy Six Nations Hospitality – Stadio Olimpico
The Stadio Olimpico, also known as  Olympic Stadium, is Rome's largest sporting facility and home of Italy rugby union. The venue is located within the Foro Italico sports complex and has a capacity of 70,634.
Stadio Olimpico is primarily used for football and rugby matches and has hosted four European Cup Finals. It also served as the centrepiece stadium for the 1960 Olympic Games, hosting the athletics competitions, and the opening and closing ceremonies.
In December 1950, the site reopened to resume building work. In 1951, site engineer Carlo Roccatelli passed away and the work was entrusted to architect Annibale Vitellozzi, who tried to honour Roccatelli's ambitious plans for the stadium. However, plans to make the structure more complex fell through due to funding and environmental issues. Upon completion, the stadium reached a capacity of 100,000 people and took on the name Stadio dei Centomila until 1960, when it was renamed Stadio Olimpico for the 1960 Olympics.
The first-ever international rugby match at the Stadio Olimpico was held in 1954 and resulted in a 39-12 for France over Italy. It also hosted the 2013 Guinness Six Nations Championship fixture between France and Italy, where the Azzurri beat the Les Bleus for the second time in the series history and the first time at the stadium.
---
Register For Six Nations Hospitality – Priority Alerts:

Six Nations
If you are interested in the Six Nations series in 2024, our Six Nations hospitality team are ready to help you make your day memorable - Complete this contact form and one of our Six Nations Team will be in contact shortly.