One of the Countries Finest Racecourses
Located in Surrey, England, Epsom Downs is home to the prestigious Epsom Derby and Coronation Cup. This Grade 1 racecourse is a staple venue within horse racing and showcases impressive thoroughbred racing year on year. Officially owned by The Jockey Club the racecourse has long enjoyed affiliations with the Royal Family and the Queen.
The first race held at Epsom Racecourse was reportedly back in 1661. It didn't take long for Epsom to become a well established racecourse. By 1730 the course was hosting two races year on year which proved increasingly popular.
The public location of the racecourse meant that people could in fact, watch the race for free, which in previous years had made The Derby the most attended racing event of the sporting calendar.
Epsom Derby Hospitality
We are pleased to provide official VIP hospitality packages and tickets to the prestigious Epsom Derby in 2022. A true Classic in horse racing.
Our Open Top Bus Experience provides you and your guests with a unique way of witnessing all the thrills and action from Epsom. Other facilities include the Tattenham Straight Marquee, Private Boxes and the Chez Roux @Blue Riband plus much more. Whatever your requirements are for race day we will ensure you enjoy a first class VIP experience like no other.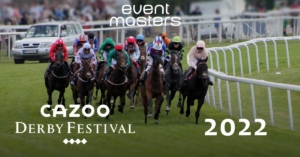 Epsom Racecourse News and Updates
Epsom Derby is one of the highlights of the sporting calendar and the most prestigious of all five Classic races ran in England. The renowned two-day meeting showcases some of the finest horse racing action of the season with high-class jumpers, trainers and jockeys all hoping to be victorious.
In 2021 we witnessed the 242nd annual Derby race, which took place at Epsom Downs Racecourse on Saturday 5 June. Adam Kirby rode to victory in the Epsom Derby on Adayar days after losing the ride on the fancied John Leeper. Kirby went through various twists and turns that took him to the winner's podium, boosting his popularity among his fellow jockeys. His success was truly popular within the racing community. Richard Hannon, hardly renowned for 12-furlong horses, trained the runner-up and the career of the lightly raced Mojo Star is still worth closely following.