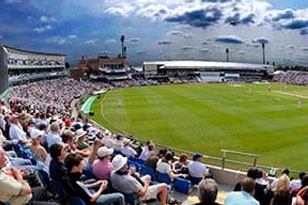 Headingley Cricket Ground Hospitality Packages
Official Cricket Hospitality Packages at Headingley in 2024
Entertain your important clients and guests at one of the world's most famous cricket venues with Eventmasters' Headingley hospitality packages. The Leeds-based stadium is renowned for producing some of the finest cricket displays with a wonderful atmosphere to follow.
The 3rd Ashes Test in 2019 showcased an unforgettable performance from Ben Stokes at Headingley. Last year, crickets fans also got to see England renew their rivalry with India, which saw Joe Root's side win by an innings and 76 runs. England also dominated in the match against Pakistan, taking home the victory with 45 runs – it was definitely a hard-fought series for the Three Lions!
Cricket returns to Headingley in 2024 and Eventmasters are delighted to offer fantastic hospitality packages for you and your important guests. Don't miss your chance to see Joe Root's men compete against Ireland and New Zealand at Leeds' very own Headingley Stadium.
Display 20 Products per page
---
Witness England Cricket in VIP style with Headingley Corporate Hospitality Packages
Yorkshire men have never been modest about their cricket and to be fair, given the county's success down the years, they haven't had much to be modest about.
Go onto the website and it proclaims – "Yorkshire County Cricket Club is one of the greatest clubs in the world".
It continues: "Established over 150 years ago, the history, tradition and passion of Yorkshire cricket is renowned. No other county in the history of the game has won more trophies and produced more players for England."
Headingley has been home since 1890 and a venue for Test Matches since 1899.
There have been some amazing eras.
Winning the title four times in the 1900s, the side, led by Lord Hawke, included great players such as George Hirst, David Denton – who scored 2,000 runs in a season four times – and Wilfred Rhodes, who took a career 3,598 wickets for the County.
The 1920s featured openers Herbert Sutcliffe and Percy Holmes, who still hold the record for the highest opening stand of 555 against Essex. George Macaulay took 100 Championship wickets in a season 10 times.
The 1930s featured Hedley Verity, a great left-arm spinner, Bill Bowes, an international opening bowler, and Len Hutton, one of the best batsmen ever to play cricket.
Yorkshire won the Championship six times in the 1960s – twice under the leadership of Vic Wilson and four under Brian Close. That team included fast bowler Fred Trueman, who took 307 Test wickets, all-rounder Ray Illingworth, who captained England in 31 Tests, and iconic opening batsmen turned commentator Geoffrey Boycott.
Headingley Stadium the home of Yorkshire County Cricket Club, the Rugby League team Leeds Rhinos and Yorkshire Carnegie rugby union team.
There are two separate grounds – Headingley Carnegie Stadium and Headingley Carnegie Rugby Stadium with a two-sided stand sharing some facilities. Originally owned by the Leeds Cricket, Football and Athletic Company, it is now managed together by Yorkshire C.C.C. and Leeds Rugby.
Since 2006 it has been called the Headingley Carnegie Stadium following sponsorship from Leeds Metropolitan University whose sports faculty is called Carnegie School of Sport Exercise and Physical Education. Then from November 1st 2006 – November 3rd 2021 the name changed to Emerald Headingley Stadium due to the purchase of naming rights by Emerald Group Publishing.
With facilities having become somewhat tired, the club and university collaborated in building the Headingley Carnegie Pavilion, which replaced 'The Shed' to the northern side of the  ground which, dating from the early 1970s, was the oldest surviving structure. It produced quality changing facilities and a new media centre.
Further huge improvements are planned with a £50 million re-development over 20 years designed to secure the stadium's Test Match status.
Phase One, the erection of permanent floodlights, is complete.
Phase Two is the rebuild of the Football Ground End, in conjunction with Leeds Rugby, to incorporate a three-tiered seating area, which will accommodate 5,060 seats, enhanced corporate facilities and new permanent concession units. Phase Three envisages an additional 915 seats to the upper tier of the North East Stand with the possibility of a cantilever roof from the side of the Carnegie Pavilion to the existing scoreboard.
Phase Four would see the development of a new Pavilion located in the North West area of the stadium complex. Built on five levels, it will be adjacent to the existing Carnegie Pavilion, to include state-of-the-art corporate facilities, new dressing rooms for the players and coaching staff, Members' Long Room and seating and the creation of a main entrance to the stadium on Kirkstall Lane.
Phase Five takes in the erection of a translucent cantilever roof to cover the White Rose Stand on the western side of the ground, with Phase Six being landscaping on the White Rose Stand and North East stand concourses.
Stadium capacity would rise from 17,000 to 20,000.
A great club looking to the future and dreaming of even greater glory.
Headingley Stadium FAQs
What is the history behind Headingley?
Headingley is one of the UK's leading venues, situated within the Headingley Stadium complex in Leeds.
Formally known as Emerald Headingley, Headingley is the home of Yorkshire County Cricket Club; it has become renowned for hosting some of the world's most exciting England events, including games in the Cricket World Cup and Ashes.
How do I travel to Headingley Cricket Ground?
Although Headingley has no cark park, during international cricket events, a 'park and stride, will be in operation and plenty of street parking will be available for those travelling by cars, taxi's etc.
Those travelling by train can access Headingley through Leeds City Station which is approximately 2 miles from the stadium, equivalent to a 10-15 minute car journey. Headingly Station is located on Harrogate Line and is a 10-minute walk from Headingley . Alternately, Headingley attendees can also travel from Burley Park station which is a 5-minute walk from the stadium.
The closest airport to Headingly Stadium is Leeds Bradford Airport which is roughly a 20 minutes drive from Headingley.
What England Cricket matches are being held at Headingley Stadium?
The 2024 England Cricket Matches at Headingley are as follows:
England v Pakistan: IT20 – Wednesday 22nd May 2024
England v Australia: One Day International (ODI) – Saturday 21st September 2024
What can I expect with Headingley hospitality packages?
With Headingley hospitality packages, you will not only enjoy a great match day but also an array of splendid corporate benefits including a complimentary bar, fine dining, champagne reception and much more. Explore our Headingley hospitality options to experience the best of cricket in Leeds, West Yorkshire.
Interested in Headingley Hospitality Packages?
Complete this form to register your interest:
If you are interested in any of our hospitality packages, our event specialists are ready to help you make your day memorable. Complete this contact form and we will be in contact shortly.