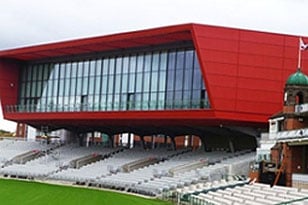 Emirates Old Trafford Hospitality Packages
See our range of Emirates Old Trafford Hospitality Packages for England Cricket fixtures in 2024
Emirates Old Trafford hospitality packages provide you with the perfect opportunity to entertain your valued clients and guests at world-class cricket in 2024. The Point is one of the most recognisable structures in sport, and the first-class hospitality on offer inside this fantastic facility perfectly compliments the action on the pitch.
In autumn 2024, guests and clients can witness England welcoming Australia for the Vitality IT20 while clashing with Sri Lanka for a Test Match. Don't miss your chance to see these fantastic fixtures with our official Emirates Old Trafford hospitality packages – offering delicious fine dining, complimentary drinks and spectacular views from your very own private balcony.
Display 20 Products per page
---
Watch England Cricket in style with Emirates Old Trafford Hospitality Packages.
These days Emirates Old Trafford sees itself as an award-winning conference, hospitality and events venue, but it is also home to the great Lancashire County Cricket Club. It is a notable Test venue where unforgettable cricketing moments have been created. Perhaps one of the most iconic moments at Emirates Old Trafford was England retaining the Ashes in 2013.
At Eventmasters, we offer a range of hospitality packages at the Emirates Old Trafford Cricket Ground.
There is the Emirates Old Trafford Captain's Club, which offers impressive views, and there will be fantastic food made by fantastic chefs for you to enjoy! You can find it in the premium section of The Point. The Century Lounge offers plenty of food and fantastic views will be available. Don't worry; you can still enjoy the fantastic atmosphere from the elevated balconies situated outside the Lounge for what is sure to be an incredible experience. You will also be able to find this at The Point.
With our Private Hotel Suites, you and your clients can watch world-class cricket in style with an elevated terrace and some fantastic outdoor entertainment space where you can experience the atmosphere and enjoy an experience you will never forget. This experience doesn't need to end when the match ends with overnight stays available.
Experience the best Emirates Old Trafford hospitality in 2024 with our exclusive cricket hospitality packages.
Interested in Emirates Old Trafford Hospitality Packages?
Complete this form to register your interest:
If you are interested in any of our hospitality packages, our event specialists are ready to help you make your day memorable. Complete this contact form and we will be in contact shortly.