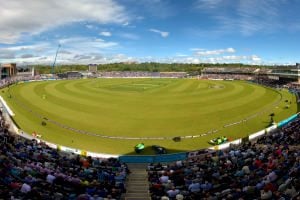 Riverside Cricket Ground Hospitality Packages
Official Cricket Hospitality Packages at the Riverside Cricket Ground in 2024
Entertain valued clients and guests at world-class international cricket with our Riverside Cricket Ground Corporate Hospitality Packages.
Soak up the picturesque surroundings of one of the UK's finest sporting venues as you and your guests enjoy all the thrills from these exciting upcoming games. Our VIP hospitality packages will ensure you experience a first-class cricketing experience worth savouring. Choose from Private Box hospitality or our match lounge packages and enjoy a day at Riverside like no other.
Display 20 Products per page
---
Official Riverside Cricket Ground Corporate Hospitality Packages
Previously know as 'Emirates Durham International Cricket Ground,'  the Riverside ICG marks a remarkable journey for the Durham club.
It has gone from minor counties level to first class cricket county status with international Test cricket gracing the ground.
And for fans it is a must to sample Northern hospitality there.
Today the Riverside Cricket Ground is a top sport and music venue which regularly attracts visitors from all over the world to Chester-Le-Street.
There are excellent meeting and events facilities, which can cater for up to 300 guests, the perfect venue for business meetings or special occasions, plus a Media and Education Centre incorporating a Learning Centre.
Durham County Cricket Club was established in 1882, becoming Minor Counties Champions a record equalling nine times between 1900 and 1984.
They became the first minor county to beat a first-class county in the Gillette Cup (1973) when Yorkshire lost in that competition.
Between 1976 and 1982 Durham established a record of 65 minor county matches without loss, and in 1989 the committee at Durham County Cricket Club decided to commence procedures to apply to be a first-class cricketing county club. Less than three years later the Test & County Cricket Board awarded the club first-class status on December 6, 1991, the first new county for 70 years.
Between 1992 and 1994 Durham had a roving existence with no home venue, squatting at grounds in Newcastle, Sunderland, and Hartlepool, although they, by this time, had reputable players of the quality of Ian Botham,  Wayne Larkins, Paul Parker, David Graveney , Dean Jones, Simon Hughes and Geoff Cook on the playing staff.
However detailed planning approval was granted in April 1993 for the club to create their own ground with future vision of Test Match cricket and international cricket being staged in the North-East of England.
The headquarters of the eighteenth and newest county cricket club is now the Riverside International Cricket Ground, a spectacular location overlooked by Lumley Castle, with facilities improved year after year for spectators, construction of the Pavilion and Members Stands, also taking in banqueting, conferencing, souvenir shop, and offices while Austins Bar & Bistro offers excellent dining.
And subsequently the dream came true with World Cup matches, one day internationals and full Tests.
In 2008 the LV County Championship was won by Durham County Cricket Club with the first eleven going on to retain the Championship title in 2009.
Leading players included Steve Harmison and Paul Collingwood while the new superhero is Ben Stokes, whose achievement in hitting the fastest double century for England, reaching 258 in just 198 balls against South Africa, was hailed across the entire country.
All a long way off the first team to bear the name 'Durham County'.
They played an MCC side in 1876 and went on to take on the touring Australians in 1878, beating them by 71 runs, and again in 1880, this time losing by an innings and 38, with Fred Spofforth taking 17 wickets for 66.
Enjoy some of this magic in 2024 with our exclusive hospitality packages and VIP Tickets at this remarkable ground.
---
Interested in Riverside Cricket Ground Hospitality?
Complete this form to register your interest:
If you are interested in any of our hospitality packages, our event specialists are ready to help you make your day memorable. Complete this contact form and we will be in contact shortly.