Arsenal v RC Lens Hospitality Tickets & Packages
★★★★★
£299.00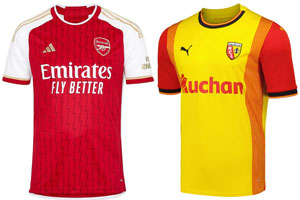 Arsenal v RC Lens
Champions League 2023/24
Fixture Date – Wednesday 29th November 2023
Kick-off – 8pm
Emirates Stadium, London
Arsenal welcome Lens to Emirates Stadium for this 2023/24 Champions League fixture. Arsenal Head Coach Mikel Arteta is set to lead his side into a match against French club Lens in the Group Stage of this season's UEFA Champions League at the Emirates Stadium. This match is set to be played on Wednesday, 29th November 2023, in an 8pm Kick-Off.
Arsenal v Lens Hospitality Tickets are NOW Available!
The Emirates Stadium Hospitality Dress Code
Come and support your team with pride and honour. Values which the Arsenal team carry themselves. If you are seated club level, you may wear your arsenal football shirts and dress casual; however, you are expected to dress with style and sophistication for your VIP hospitality package guests.
To maintain the formal environment, all men are required to wear smart attire. This includes:
Button-up shirt
Black tie attire
Ladies are required to wear formal daywear to complement this expectation.
Away colours are not permitted at club level.
---
Arsenal welcome RC Lens to Emirates Stadium for his Champions League 2023/24 fixture.
Arsenal is welcoming French Club Lens to the Emirates Stadium for their UEFA Champions League Group Stage fixture on Wednesday, 29th November 2023, in an 8pm Kick-Off.
It was a 2nd place finish last term after the Gunners accumulated 84 points. Mikel Arteta's team were locked into a title battle with Pep Guardiola's Manchester City for much of the season but lost out in the end by only 5 points. Nonetheless, this was a great season, as they secured qualification for the 2023/24 UEFA Champions League.
Lens was one of the surprise packages of Ligue 1 in the 2022/23 season, with very few predicting them to finish in 2nd place with 84 points, just one point behind Champions Paris Saint-Germain. The 2023/24 season will see Les Sang et Or (The Blood and Gold) participate in the Champions League for the third time. Their last Champions League campaign was in the 2002/03 season, where they were knocked out in the first group stage.
Arsenal and Lens have played against each other just four times as of the time of writing. The Gunners have a superior record of 2 wins compared to Lens' 1. There has been a solitary draw between these two clubs to date.
The last time that these two clubs met was in the UEFA Cup (now the UEFA Europa League) semi-final in the 1999/2000 season. Arsenal won the first leg 1-0 at Highbury thanks to a Dennis Bergkamp goal in just the second minute of the match. The Gunners followed this victory up with another, this time in France, where they were able to beat Les Sang et Or 2-1 in the away leg at the Stade Felix-Bollaert where Thierry Henry (43') and Nwankwo Kanu (86') scored for Arsene Wenger's side.
With 15 goals each, Gabriel Martinelli, Martin Odegaard, and Bukayo Saka were Arsenal's top goal-scorers in all competitions in the 2022/23 season. As for Lens, Loïs Openda was their leading goal scorer last term, with 21 overall in all competitions.
Arsenal v RC Lens Champions League Hospitality Tickets & Packages 2023/24 – FAQs
How much are Arsenal tickets?
Arsenal tickets and hospitality packages are available for all Arsenal games, priced independently for each fixture. The Arsenal hospitality tickets include a Club Level seat. Check out our hospitality options at Emirates for more detail by visiting our fixture list.
When do Arsenal 2023/24 Season Tickets go on sale?
Arsenal season tickets for the 2023/24 Premier League season went on sale on the 29th of May 2023. Our matchday VIP packages are available for those looking for Arsenal Matchday Packages (see fixture list)
What are Arsenal 2023/24 season tickets prices?
There are a variety of prices, which are as follows: Centre Upper: £1,783.50 to £1,895.50, Centre Upper Back: £717 to £1,434, Next to centre upper: £1,269 to £1,434, Wing Upper: £1,115 to £1,269, Corner Upper: £634.75 to £1,269.50, Upper Behind Goal: £675.75 to £1,361.50, Lower Centre: £531.75 to £1,063.50, Lower Wing: £486.75 to £973.50, Lower Corner: £486.75 to £973.50, Lower Behind Goal: £486.75 to £973.50 & Family Enclosure: £331 to £973.50.
Do I need to be a season ticket holder to buy VIP Hospitality Packages?
To buy our VIP Arsenal Hospitality Packages, you do NOT need to be a season ticket holder.
How do I Buy Arsenal Hospitality Tickets
Arsenal tickets and hospitality packages are available for individual games for the upcoming 2023/24 season. You can review the fixture list below and select your chosen game. Simply follow the 'book now' button to read all about the fixture, the history between the two clubs, the package and ticket options and details of how to book your chosen Arsenal package.
When will I receive my Arsenal matchday tickets?
Arsenal tickets are normally dispatched to clients 7 to 14 days prior to the fixture.
Can I receive Arsenal tickets outside the UK
If you have booked using an overseas address, then tickets will be left for collection on the day. The collection point is the East Entrance Reception. You will require an ID to collect your tickets. Full collection details will be emailed to you approximately 7 to 14 days before the fixture.
How do I get to Emirates Stadium?
We have provided directions to Emirates Stadium above; for further information on how to get there and a full list of ground regulations, visit Arsenal's Emirates Stadium information page.
How do I get in contact about Arsenal tickets and matchday tickets?
Just complete the enquiry form on this page, or if you prefer, you can contact a team member by visiting the Eventmasters' contact us page or calling our Head Office: 020 7989 6500.
---
Register For Arsenal v RC Lens Hospitality & Tickets – Priority Alerts