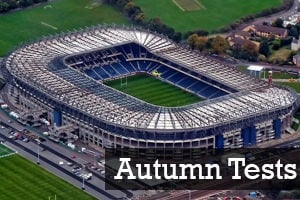 Autumn Internationals Hospitality Packages 2024
Explore our Autumn Internationals Hospitality Packages at Twickenham Stadium
The iconic and historic Twickenham Stadium will host the Autumn Internationals again in November 2024. There will be four fixtures for England to play, with three already confirmed. The fourth and final game will be announced at a later date, but it will be played on either 23rd or 24th November 2024.
Autumn International 2024 Dates
The confirmed 2024 Autumn international fixtures are as follows (All kick-off times are yet to be confirmed):
England v New Zealand – Saturday 2nd November 2024
England v Australia – Saturday 9th November /Sunday 10th November 2024 *
England v South Africa – Saturday 16th November/Sunday 17th November 2024 *
*dates to be confirmed
There is no better way to experience world-class rugby at Twickenham Stadium than with one of our  VIP Autumn Internationals Hospitality Packages.
Display 20 Products per page
---
History of the Autumn Internationals:
Twickenham Stadium is one of the most iconic and historic rugby venues in Britain and the world. Construction on the ground began back in 1907 before the stadium was finally completed 2 years later on 2nd October 1909. On that same day, Twickenham hosted its first-ever competitive rugby match between Harlequins and Richmond. In front of a 2,000-strong crowd, Harlequins won 14 – 0.
The first international match to be hosted at this iconic ground occurred on 15th January 1910 when a crowd of 22,000 saw England take on Wales in the 1910 Five Nations Championship. England won the match 11 – 6, and they went on to win their fourth Five Nations title after collecting 7 points from their 4 matches.
After rugby officially turned professional in 1995, England came face to face with Australia in the 2000 Autumn Internationals for the first time as a professional team. Jonny Wilkinson and Daniel Luger both shone as Sir Clive Woodward's England came away as 22-19 winners in front of a 74,000-strong crowd. This victory also saw England win the Cook Cup.
Then, in 2002, England handed Australia their heaviest-ever defeat when they were beaten 53 – 3 thanks to tries coming from Ben Cohen, Will Greenwood (2), Neil Black, Richard Hill and Lawrence Dallaglio.
Fast forward to 2012, when one of the most memorable and historic Autumn Internationals moments took place. England took on then World Champions New Zealand, where Stuart Lancaster led his side to a historic 38 – 21 victory, ending New Zealand's 20-match unbeaten run at Twickenham. On the day, Brad Barrit, Chris Ashton and Manu Tuligali got the tries for England.
Then, in 2021, England secured a memorable 27 – 26 win at Twickenham in an Autumn International fixture against South Africa. It initially saw the Springboks pulling away from them, leading 18-17 before Raffi Quirke scored his superb try to put Eddie Jones' side back in front. England did, of course, go on to secure a thrilling win.
The 2022 Autumn internationals took place at Twickenham, with England beating Argentina 30 – 29 in their first match before they demolished Japan 52 – 13. A 25 – 25 draw followed against New Zealand before being beaten 13 – 27 by South Africa.
England also participated in the 2023 Autumn internationals, with the standout result being a 19 – 17 win against Wales at Twickenham in front of a 74,256-strong crowd.
There is no better way to experience world-class rugby at Twickenham than with an Eventmasters VIP Rugby Hospitality Package.
Autumn Internationals & Twickenham Stadium FAQs
When and where do the 2024 Autumn Internationals take place?
The 2024 Autumn Internationals take place between 2nd and 24th November 2024 at the iconic Twickenham Stadium.
Who is taking part in the 2024 Autumn internationals?
England are of course taking part in the 2024 Autumn Internationals, as are New Zealand, Australia, South Africa and an as yet unannounced third opponent.
Is Twickenham Stadium cashless?
Yes, Twickenham Stadium is a cashless venue.
What accessibility features are on offer at Twickenham?
There is wheelchair or ambulant access at the ground, but you will need to pre-register for this. Those who are not registered disabled but cannot climb stairs can either sit in the pitch-side accessible seating areas or in the lower tier seats from rows 4 to 15. Assistance dogs are allowed in Twickenham. Disabled parking is also available.
Is smoking allowed at Twickenham?
No, smoking is not allowed anywhere inside the stadium or at any of the entrance gates. If you want to smoke, you will have to exit the stadium – if you do so, remember to take your ticket outside with you so that you can re-enter the stadium.
Where can I watch the Autumn Internationals on TV?
You can watch all the action unfold in the Autumn Internationals via Amazon Prime. Bear in mind that Prime does require a subscription. If you live outside of the UK, Amazon Prime will still be your best option to catch the Autumn Internationals on TV.
Amazon's Prime service, just it has for the last couple of autumn internationals, will be broadcasting all of the games that take place over the course of the internationals in Autumn 2024.
Coverage begins on Saturday 2nd November 2024 when England face New Zealand at Twickenham.
Are your tickets and hospitality packages for the 2024 Autumn Internationals available to book?
Yes, our tickets and VIP Hospitality Packages are now available for the 2024 Autumn Internationals. And, here at Eventmasters Corporate Hospitality, we are delighted to offer a Twickenham Stoop Hospitality Package and our Twickenham Private Box Hospitality Package for a party of ten people.
Prices for our Twickenham Stoop package starts at £249 per person plus VAT (this is for England v Australia). Prices for our private box tickets and packages for any game on offer are currently POA (Price On Asking). Feel free to call us to enquire on: 020 7989 6500.
What is included in the Twickenham Stoop Hospitality Package?
Should you wish to purchase our Twickenham Stoop Hospitality Package, you will be able to watch the action unfold in the Autumn Internationals in style, with this package including a four course pre-match meal, champagne reception, inclusive bar, private tables of 10 or 12 guests, a hot meal post-match, Former England and British & Irish Lions international Tim Stimpson as your master of ceremonies and host, Q&A by other former England and Ireland internationals, a matchday programme and car parking (subject to availability).
What is included in the Twickenham Private Box Hospitality Package?
Our Twickenham Private Box Hospitality Package helps you and your clients enjoy the action in style. This particular package offers: Exclusive use of an upper tier 'skyview' suite, a champagne reception, a chef's tribute to the visiting nation as an amuse-bouche, a four-course meal served to your box directly, premium match seats located directly outside your box, a complimentary bar, a complementary selection of matchday programmes and reflinks & post-match Twickenham Tea.
---
Register For Autumn Internationals Hospitality – Priority Alerts:
Autumn Internationals (Twickenham)
Our Autumn Internationals Hospitality Team is ready to help you plan your day at the Autumn Nations - Complete this contact form and one of our hospitality team members will be in contact shortly.