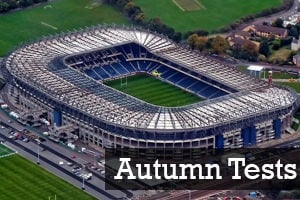 Autumn Internationals – Hospitality Packages at BT Murrayfield
See Scottish Rugby Like Never Before with Official Tickets and Hospitality
We are delighted to offer official Scottish rugby tickets and hospitality packages for the Autumn Internationals year on year. In 2021 we will once again be bringing you exclusive VIP rugby hospitality at BT Murrayfield Stadium.
The autumn rugby internationals were replaced in 2020 due to COVID-19 restrictions and lockdowns, leading to a new international competition between England, Wales, Scotland, Ireland, France, Italy, Fiji, and Georgia for the Autumn Nations Cup. Scotland stunned Italy with a 28-17 victory at Artemio Franchi Stadium and dominated Georgia at BT Murrayfield, winning 48-7. Scotland enters the Autumn Series 2021 in second place, providing them with a strong starting position.
Rugby fans can expect Scotland test matches with the two best Southern Hemisphere nations in the 2021 Autumn internationals to be thrilling. Don't miss out and book your tickets now to experience VIP Scottish rugby hospitality when Scotland go head-to-head with Australia and South Africa at BT Murrayfield!
Display 100 Products per page
---
BT Murrayfield Stadium – The Home of Scottish Rugby
The Autumn Internationals always provides rugby fans with an unforgettable experience. In 2018 Scotland managed to win two games in the last Autumn International series, beating Fiji and Argentina but unfortunately losing out on a third win against South Africa.
Much of the same can be expected from the upcoming competitions. BT Murrayfield is famous for hosting impressive Rugby matches and coupled with our VIP hospitality – you and your guests will enjoy a sporting experience like no other.
Due to the COVID-19 pandemic, the newly established Autumn Nations Cup event will replace the Autumn internationals but still ensuring that fans around the world are entertained by world-class rugby. Scotland amazed their fans after securing a victory over Italy and Georgia last year. The Scottish rugby team's impressive score, saw them rank 2nd overall, placing them in a strong position for the Autumn Series 2021.
In November 2021, the giants of southern hemisphere rugby – South Africa, New Zealand, Australia and Argentina will return to BT Murrayfield to bring an exciting atmosphere for rugby fans.
Be sure to keep up with the latest updates from us to ensure you secured the finest hospitality for you and your valued guests.
Eventmasters is also offering hospitality packages for the Six Nations matches at BT Murrayfield. View our packages here.