Eastbourne Tennis Tickets
&

Hospitality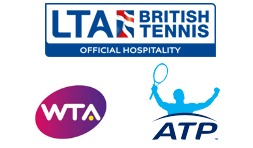 Eventmasters are delighted to offer a superb range of corporate hospitality packages and VIP tickets for the pulsating Eastbourne International in 2019.
The terrific contest (now sponsored by Nature Valley) is situated in the bucolic grounds of the Devonshire Park Lawn Tennis Club, Eastbourne and features some of the finest sporting specimens that tennis has to offer.
This unmissable event gives guests the opportunity to witness some of the world's finest sporting specimens from the both the ATP and WTA compete on the glimmering grass courts and provides the perfect environment for clients and friends alike to experience a delightful day of sun-splashed entertainment.
Last year's tournament saw a player win their maiden tour title and a previous champion regain their title.
Women's World No.2, Caroline Wozniacki, was forced to battle hard to regain her Eastbourne Tennis crown as she defeated Aryna Sabalenka 7-5 7-6(5).
Playing in his first final in eight years, Misha Zverev served and volleyed his way to his first ever ATP World Tour title. Beating Lukas Lacko 6-4 6-4 Zverev also became the eighth player to win their first title this year.
As next year's terrific tournament hoves into view, be to make it an experience to remember with our fabulous Eastbourne Tennis tickets and hospitality.
The Sky Lounge
Eastbourne International – Eastbourne Tennis Tickets and Hospitality Packages – The Sky Lounge
The splendid location of the Sky Lounge suite allows guests to enjoy exceptional views of the exhilarating Eastbourne tennis action. Overlooking the iconic Centre Court and Number One Court, the luxuriant facility is an ideal setting for both you and your valued clients to sit back, relax and savour a fabulous day of dazzling sport and corporate entertainment. After being cordially greeted with a sublime sparkling reception and canapés, visitors can enjoy a delicious 3 course a la carte lunch as well as a complimentary bar including fizz. Make it a day to remember with this fabulous Eastbourne Tennis hospitality package.
Hospitality Packages Include:

Exclusive hospitality suite
Private table to suit your group
Premium South Stand tickets – within first 6 rows
Light Breakfast offering
Sparkling reception & canapés
Waitress-served 3 course a la carte lunch
Afternoon tea
Complimentary bar including fizz
Hostess service and cloaks facility
Car Parking upon request (3 per 10 guests)
Date

Order of Play

Guide Price

Quantity

Mon 24 June 2019
1st Round

£

179.00
Please enquire for availability

Book Now

Enquire
Tue 25 June 2019
1st Round

£

289.00
Please enquire for availability

Book Now

Enquire
Wed 26 June 2019
2nd Round

£

299.00
Please enquire for availability

Book Now

Enquire
Thu 27 June 2019
Quarter Finals

£

305.00
Please enquire for availability

Book Now

Enquire
Fri 28 June 2019
Semi-finals

£

305.00
Please enquire for availability

Book Now

Enquire
Sat 29 June 2019
Finals

£

279.00
Please enquire for availability

Book Now

Enquire
Please note all prices are per person and subject to VAT and availability at the time of booking,
If you are looking for a particular package or facility that isn't listed on our website, please call us on 0121 233 6500 with your specific requirements.
Event Guide
We have a dedicated page where you can view, download and print all of our event information for the Eastbourne International.