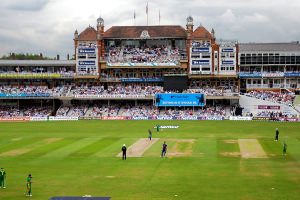 KIA Oval Hospitality Packages
Official Cricket Hospitality Packages at the KIA Oval in 2024
The KIA Oval is widely recognised as the home of T20 cricket in Surrey. Eventmasters are delighted to offer a variety of cricket hospitality packages for England's international matches.
Entertain your important clients and guests at the KIA Oval with our superb corporate hospitality packages. Our fantastic suites are available to suit your refined tastes and requirements, including the Ashes Suite and Duchy Suite, The Back Of The Bowl and the luxurious Corinthian Roof Terrace. These delightful Kia Oval corporate hospitality packages will surely give you and your esteemed guests a fabulous day to remember.
Display 20 Products per page
---
Experience England cricket in VIP style with KIA Oval hospitality packages
There is a plethora of luxury cricket hospitality that we provide at the historic KIA Oval in 2024. We have the KIA Oval Ashes Suite, which is located on the first floor of the JM Finn Stand. It offers a fantastic view of the ground, and you can enjoy guest celebrity appearances and a great dining experience.
Back of the Bowl is our entry-level package that allows you to enjoy the match in luxury with lunch and afternoon tea hampers available throughout England's Ashes test against Australia.
The KIA Oval Roof Terrace, referred to by Jimmy Anderson as "the best place to watch cricket in the world" offers great views and a great atmosphere.
The KIA Oval  Duchy Suite comprises two luxurious private terraces with direct access to the pavilions to enjoy the fantastic cricket on offer!
KIA Oval Executive Boxes are also available, offering private seating and hostesses. All of these fantastic hospitality packages offer an unrivalled and luxurious experience with a friendly atmosphere.
Don't miss out on our superb range of cricket corporate hospitality facilities for a delightful day during 2024.
---
Interested in KIA Oval Corporate Hospitality Packages?
Complete this form to register your interest:
If you are interested in any of our hospitality packages, our event specialists are ready to help you make your day memorable. Complete this contact form and we will be in contact shortly.