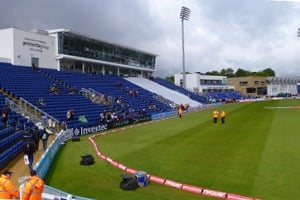 Sophia Gardens Hospitality Packages
See our range of Sophia Gardens Hospitality Packages for England Cricket fixtures in 2024
Make your next visit to Sophia Gardens Cricket Ground an extraordinary one by indulging in our world-class hospitality, where the love for the game meets unparalleled comfort and service. Enjoy world-class cricket in VIP style with official Sophia Gardens hospitality packages in 2024. Nestled in the heart of Cardiff, this iconic venue offers an unforgettable blend of sporting excitement and luxurious indulgence. Whether you're a die-hard cricket fan or just looking for a unique corporate outing, our hospitality offerings cater to all.
Enjoy the best seats in the house with stunning views of the action, complemented by gourmet dining and a selection of premium beverages. Immerse yourself in the electric atmosphere of international cricket while our attentive staff ensures your every need is met.
Display 20 Products per page
---
Official Sophia Gardens Hospitality Packages
With Eventmasters, there is a plethora of hospitality packages available at Sophia Gardens Cricket Ground. First, the luxurious Private Hospitality Boxes have plenty to offer, including a Champagne reception, a two course meal and a match programme.
The Wild Water Lounge, located on the second floor of the Thathers Pavilion has plenty to offer. This includes a champagne reception, drinks packages, a two course meal as well as tables with a view of the pitch at Sophia Gardens.
At The Terrace, located at the Cathedral Road end, you receive a variety of complimentary services at Sophia Gardens. This includes a two course meal, a gift and a complimentary champagne reception.
The Lewis Lounge overlooks the Sophia Halls. You will have access to a variety of complimentary items. This also includes a drinks package, a match programme and a two course meal to boot.
There is also the CC4 Museum of Welsh Cricket, which offers a two course meal and a shared table with a great view of the pitch to just name a few of the services on offer. You can also take in the fantastic history of Welsh Cricket when travelling to Sophia Gardens.
---
Interested in Sophia Gardens Hospitality Packages?
Complete this form to register your interest:
If you are interested in any of our hospitality packages, our event specialists are ready to help you make your day memorable. Complete this contact form and we will be in contact shortly.