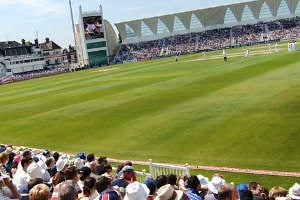 Trent Bridge Hospitality Packages
See our range of Trent Bridge Hospitality Packages for England Cricket fixtures in 2024
Eventmasters are delighted to offer official Trent Bridge hospitality packages for a selection of exciting encounters in 2024. Trent Bridge, home of Notts CCC, is known as one of the UK's most popular cricket venues and its hospitality packages offer you the chance to see a number of renowned cricket events in VIP style.
With our Trent Bridge hospitality, you will not only enjoy a great match day but also an array of splendid corporate benefits including a complimentary bar, fine dining, champagne reception and much more.
Display 20 Products per page
---
Watch the International Cricket fixtures in VIP style with Trent Bridge Corporate Hospitality Packages
Trent Bridge is not only the home of Nottinghamshire County Cricket Club – it is also a world famous cricketing stadium and landmark. The founder, William Clarke, saw the potential of a quaint little meadow at the back of the Trent Bridge Inn – corporate hospitality to the fore even then perhaps – in 1838.
Considered by many players and spectators to be one of the most pleasant in England, the architecture of the ground has been kept within the parameters set by the 1886 pavilion – one of the most renowned trademarks of cricket because it faces the wicket at an angle.
The first international cricket match held at Trent Bridge was a match between England and Australia, which ended in a draw.
It had the honour of hosting the first match of the first five-match Test series in England. W.G. Grace, playing his last Test, was 50yrs 320 days old when the match ended; only Wilfred Rhodes played Test cricket at a greater age, and he made his debut in the same game.
Trent Bridge has developed steadily ever since and has seen many of the cricketing greats leave their mark on history.
Denis Compton scored 278 against Pakistan in 1954. Sachin Tendulkar passed the 11,000 run mark in the npower 2nd Test in 2007. And in 2013, Ashton Agar achieved the highest test score by a No. 11 batsman whilst making his debut for Australia, scoring 98 runs after coming in at 117/9.
Trent Bridge has a capacity of 17,000 people on match days, and it usually ends up being sold out for Test and One-day Internationals. It also boasts facilities for both domestic and international visitors.
An array of catering options and bar facilities are on offer throughout the ground, while Nottingham itself has the most wonderful hostelries and restaurants. A hospitality lover's dream.
Trent Bridge ticket prices can vary a great deal depending on the match of your choice. The Cricket World Cup is certainly worth enjoying with an added tier of VIP luxury. Booking in advance can ensure that guests make a saving ahead of their chosen game. Booking in advance can ensure that guests make a saving ahead of their chosen game.
Our cricket hospitality packages offer the best of ultimate hospitality service and world-class cricket at Trent Bridge.
If you are looking for a luxurious package and fine dining, look no further than the Restaurant Six package with talented chefs and bartenders at your service. The Radcliffe Road Suites is perfect for viewing all the action from legendary cricket players with a private balcony with food and drinks available.
When purchasing your cricket tickets, impress your guests or friends with the Derek Randall Suite, providing guests with some of the best views from reserved match seats to make the day unforgettable. Don't forget to try the incredible cuisine and refreshments prepared for your entertainment from the viewing balcony in the Scoreboard Suite.
---
Interested In Trent Bridge Hospitality Packages? Enquire below:
Complete this form to register your interest:
If you are interested in any of our hospitality packages, our event specialists are ready to help you make your day memorable. Complete this contact form and we will be in contact shortly.