Monaco Grand Prix Hospitality and Tickets – VIP Yacht Package
The Monaco Grand Prix is synonymous with VIP style, luxury and sophistication, and what better way to enjoy the glamour and atmosphere of the riveting race day than with a hospitality experience aboard a sumptuous VIP yacht? Enjoy the spectacle of Monte Carlo from our tri-deck super yacht moored adjacent to the splendid track.
Eminent guests will be treated to not only mouth watering views, but also delectable gourmet lunches, canapés and a splendid inclusive bar stocking the finest champagne and wines, craft beers and soft drinks. Enjoy the scintillating racing in style with this delightful hospitality package.
VIP Yacht Hospitality Package at the Monaco Grand Prix Highlights:
VIP invitation to Friday night party which includes a live band, an open bar and canapés (supplement applies)
Trackside view of the race, plus super-screen opposite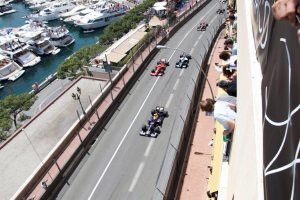 VIP Yacht Hospitality Package at the Monaco Grand Prix Includes:
Buffet breakfast upon arrival & the finest canapés throughout the day
Exquisite gourmet lunch, with High Tea on Saturday and Sunday
Access at your leisure on Saturday and Sunday
VIP invitation to Friday night party which includes a live band, an open bar and canapés (supplement applies)
Fully Inclusive bar including Champagne, wine, beer and soft drinks
Trackside view of the race, plus super-screen opposite
Plasma screens inside the yacht, to keep abreast of all the action