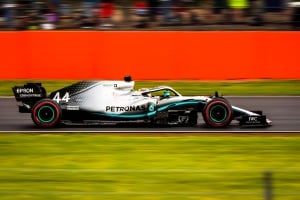 Silverstone Hospitality Packages – British Motorsport
Enjoy superb Silverstone hospitality packages for some of the biggest events in British motorsport, including the F1 British Grand Prix, Silverstone Classic and British Grand Prix MotoGP in 2024
See one of the most historic races on the Formula 1 calendar with our Silverstone hospitality packages for the 2024 British Grand Prix.
The British Grand Prix has been held at the famous track since 1955 and is always a popular event. Our Silverstone F1 hospitality packages provide you with stunning views of the white-knuckle action, whilst providing a first-class environment to entertain your important clients and guests.
We are also proud to offer official Silverstone hospitality packages for the 2024 Silverstone Classic, 'The World's Biggest Classic Motor Racing Festival' which attracts some of the world's most expensive and iconic classic cars for three days of unrivalled action.
One of the biggest events of the year at Silverstone Circuit is the British MotoGP – one of the world's leading MotoGP events which will be another exhilarating renewal in 2024. Eventmasters are delighted to provide the finest official Silverstone Grand Prix hospitality packages for the Moto GP and each of these outstanding events.
Display 20 Products per page
---
Silverstone Hospitality for Formula One British Grand Prix, Silverstone Classic and British Grand Prix MotoGP
Silverstone is not only the most iconic race circuit in Britain, it is also the home of Formula One's British Grand Prix. It also hosts MotoGP and the Silverstone Classic.
The birth of one of the world's most famous racing venues began in 1942 when it was originally known as 'RAF Silverstone'. Its original purpose was as a bomber station during World War Two, until the war ended in 1945.
The British Grand Prix has been hosted at Silverstone for almost 70 years and it still draws in crowds from across the world. In 2019, Silverstone became the home of the Silverstone Interactive Museum which is there to celebrate the past, the present and the future of motorsport.
Eventmasters are delighted to offer 7 hospitality packages for fans of Formula One, Moto GP and the Silverstone Classic. They are: The Heritage club, the Legends Club, Trackside, the Ignition Club, the Fusion Lounge, the Racing Green and Parc Ferme. All of our VIP packages offer a premium bar area, live music, fantastic food and stunning views of the action.
Don't miss out on this historic event in 2024 with our official Silverstone Circuit hospitality packages.
---
Need more help? Complete the form below:
Silverstone Hospitality
Someone on our Silverstone team is ready to help you plan your day at Silverstone 2024 - Complete this contact form and one of our Silverstone Specialists will be in contact shortly.