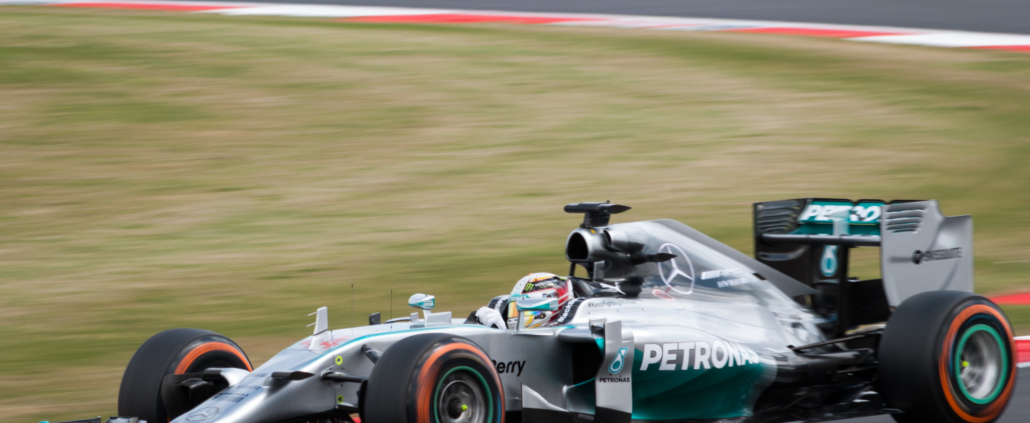 Silverstone Grand Prix Hospitality Packages – British Motor Sport
Enjoy superb Silverstone hospitality packages for some of the biggest events in British motorsport including the F1 British Grand Prix, Silverstone Classic and British Grand Prix MotoGP in 2022
See one of the most historic races on the Formula 1 calendar with our Silverstone hospitality packages for the 2022 British Grand Prix.
The British Grand Prix has been held at the famous track since 1955 and is always a popular event. Our Silverstone F1 hospitality packages provide you with stunning views of the white-knuckle action, whilst providing a first-class environment to entertain your important clients and guests.
We are also proud to offer official Silverstone hospitality packages for the 2022 Silverstone Classic, 'The World's Biggest Classic Motor Racing Festival' which attracts some of the world's most expensive and iconic classic cars for three days of unrivalled action.
The final event of the year at Silverstone Circuit is the British MotoGP – one of the world's leading MotoGP events which will be another exhilarating renewal in 2022. Eventmasters are delighted to provide the finest official Silverstone Grand Prix hospitality packages and VIP tickets for the British GP and each of these outstanding events.
Display 10 Products per page
---
Silverstone Hospitality Packages & VIP Tickets for Formula One British Grand Prix, Silverstone Classic and British Grand Prix MotoGP
Silverstone is home to the British Grand Prix and all the excitement of amazing motor racing. When F1 drivers call a track "insanely fast", you need to be there when they drive it.
The fans are some of the best in the world. Indeed Silverstone is claimed to be the best attended three day sporting event on the British calendar attracting around 350,000 people. Motor racing is about speed, money and glamour but they come for the whole experience, not just outstanding racing.
It is a kind of weekend-long party with acts like Madness, Mel C and Alesha Dixon performing. Plus free-flowing drink and gourmet food, with all sorts of hospitality packages and on site venues available. The British and Italian events are the oldest continuously staged Formula One World Championship Grands Prix.
So where did it all start? The concrete Brooklands oval was built in 1907 near Weybridge in Surrey, the first purpose-built motor racing venue. But Brooklands had been severely damaged in World War II and the circuit was abandoned.
Britain had no major race track but an abundance of airfields. One of these surplus airfields was located outside the village of Silverstone and being roughly in the middle of England was seen as an ideal location.
The Royal Automobile Club arranged a one year lease with the Air Ministry in the spirit of optimism and possibility that characterised the time. An ex-farmer, James Wilson Brown, was employed and given just two months to turn the site from a wartime airfield and farm into a race track.
On October 2, 1948, with hay bales and ropes protecting the piggery and the crops in the middle of the circuit, and canvas barriers stopping the drivers from being distracted by cars coming the other way, an estimated 100,000 people flocked to see Luigi Villoresi beat a field of 22 others in his Maserati.
Silverstone racing history had begun.
In 1951 the British Racing Drivers' Club took over the lease of Silverstone from the RAC, and set about changing the airfield track into something more permanent and raising the spectators up for a better view.
In 1956 Argentinian legend Juan Manuel Fangio bashed his way to victory. The cutting-edge aerodynamics of the car meant he couldn't see much of the circuit, and he repeatedly pinged his Alfa Romeo against the oil drums marking the edge of the track.
Graham Hill stalled his BRM at the start of 1960 Grand Prix, but went from last to first, only to spin off at Copse – five laps from the finish – breaking the hearts of his fans and handing victory to Jack Brabham.
In 1963 Jim Clark's Lotus 24 was leading, but his fuel gauge was on empty. So he cruised the last lap in top gear in a desperate attempt to prevent the car running out of fuel. He still won with almost half a minute to spare.
The 1969 Grand Prix went to Jackie Stewart in a Matra, but is now perhaps more notable for its 5th place – a privately-owned and built car's debut driven by the 27-year-old ex-travelling grocery salesman Frank Williams.
In 1971 Jackie Stewart dominated on his way to winning the second of three world titles. The 1977 British Grand Prix saw a popular win for the reigning Formula 1 World Champion and crowd favourite James Hunt in his Marlboro McLaren-Ford M26.
In 1987 Nigel Mansell snatched the honours in 1987, one of the greatest races of all time, after Nelson Piquet had to concede going into Stowe. When Mansell ran out of fuel on his slowing down lap, it sent the home fans into delirium – they invaded the track and mobbed the exhausted Brit.
1988 will be remembered for the monsoon that enabled Ayrton Senna, in his first Championship year, the opportunity to show his extraordinary skills in such appalling conditions.
Damon Hill came to the 1994 race with a point to prove, having lost out to teammate Alain Prost the previous year. It handed the Hill family a victory they had been craving for over 30 years.
Having been threatening many times, Michael Schumacher finally won the British Grand Prix in 1998, but broke his leg the following year when his brakes failed.
Other great champions include Lewis Hamilton, Niki Lauder, David Coulthard and Sir Stirling Moss. Down the years Silverstone has beaten off challenges from Aintree, Donington Park and Brands Hatch. There have been a number of refurbishments and plans are continually being floated for transformatory expansion.
Meanwhile racing, including motor bikes, goes on all year round … but the venue is much more. It hosts conferences, exhibitions, banquets, launch events, Christmas parties, weddings, and partners with various education establishments to encourage young people to engage with the motor sport industry.
Silverstone marches on with pride.
Don't miss out on this historic event in 2022 with our official Silverstone hospitality packages.
---
Need more help? Complete the form below:
Silverstone Hospitality
Someone on our Silvertone team is ready to help you plan your day at Silvertone 2022 - Complete this contact form and one of our Silverstone Specialists will be in contact shortly.