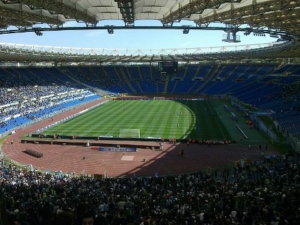 Stadio Olimpico Hospitality Packages
Italy Six Nations Hospitality Tickets at Stadio Olimpico
Eventmasters are thrilled to offer a range of Six Nations hospitality packages at Stadio Olimpico in Rome. Entertain your important clients and rugby fans at Rome's largest sporting facility in 2024 and savour a rugby matchday atmosphere unlike any other for Italy's Six Nations rugby fixtures at Stadio Olimpico.
We offer a range of Six Nations VIP rugby hospitality facilities at Olimpico, including the exclusive Sky Suite, offering premium views of the rugby action from a private hospitality suite.
Enjoy Italy's Six Nations fixtures alongside traditional fine dining experiences, a selection of white and red wines and other Six Nations hospitality niceties. The electric rugby atmosphere at Stadio Olimpico for the Six Nations is unparalleled. With full access to exclusive rugby facilities and appearances from rugby sporting legends, Stadio Olimpico rugby hospitality packages guarantee a rugby experience like no other at the Guinness Six Nations.
Display 20 Products per page
---
Stadio Olimpico – the Home of Italian Rugby for the Six Nations 2024
Stadio Olimpico, also known as Olympic Stadium, is Rome's largest sporting facility and home of Italy's rugby union for the Six Nations. Stadio Olimpico is located within the Foro Italico sports complex and has a capacity of 70,634 rugby fans for the Six Nations series.
Stadio Olimpico is primarily used for football and rugby matches and has hosted four European Cup Finals. The Olympic Stadium has also served as the centrepiece rugby venue for the 1960 Olympic Games, hosting the athletics rugby competitions and the opening and closing ceremonies.
During its early years, the Stadio Olimpico was called the Stadio dei Cipressi. Construction work began in 1927 and was completed in 1932, after a few alterations to the original plan. In 1940, further work on the venue was interrupted due to the outbreak of World War II.
In December 1950, the site reopened to resume building work. In 1951, site engineer Carlo Roccatelli passed away, and the work was entrusted to architect Annibale Vitellozzi, who tried to honour Roccatelli's ambitious plans for the Stadio Olimpico. However, plans to make the structure more complex fell through due to funding and environmental issues. Upon completion, the Stadio Olimpico reached a capacity of 100,000 rugby fans and took on the name Stadio dei Centomila when it was renamed for the 1960 Olympics.
Stadio Olimpico underwent another extensive renovation in 1990 for the FIFA World Cup. Olimpico was almost entirely demolished and rebuilt in reinforced concrete, with all sections of this rugby venue receiving full coverage.
The first-ever international rugby match at the Stadio Olimpico was held in 1954, resulting in a 39-12 for France over Italy. It also hosted the 2013 Six Nations Championship fixture between France and Italy. The Azzurri beat the Les Bleus for the second time in the series' history and the first time at Stadio Olimpico.
Stadio Olimpico has also become an iconic venue for rugby and the Six Nations and musicians, hosting various concerts over the years from Miles Davis to Beyonce.
---
Register for Six Nations Hospitality – Priority Alerts:

Six Nations
If you are interested in the Six Nations series in 2024, our Six Nations hospitality team are ready to help you make your day memorable - Complete this contact form and one of our Six Nations Team will be in contact shortly.