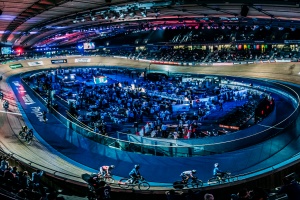 Six Day London Corporate VIP Hospitality Packages
Six Day London Cycling Series at Lee Valley Velopark is an event you don't want to miss out on, combining cycling, lights and top-tier music in order to treat you to a party atmosphere that you won't forget.
The prestigious event ooze glamour and style, giving all responsibility to the DJ to keep the party alive during and after the race. Expect the action to come thick and flying as Six Day London Cycling provides the perfect setting for a VIP experience. Whether you are hosting and event for important clients, or wanting a fun, hyped day out, the Six Day London Cycling Series will guarantee yourself a memorable day with our superb Six Day London hospitality packages.
Display 100 Products per page
---
The Six Day London VIP Packages in 2021/22 Six Day Series
Take your place at the most anticipated events in 2021 with our exclusive hospitality packages and VIP tickets. Six Day London at Lee Valley Velopark is taking its place in the 2021/22 Six Day Series. Spectators can not only look forward to live track cycling with close proximity to the riders, but also a magnificent time with off-track entertainment and the electrifying atmosphere with official Six Day London corporate hospitality packages.
Six Day London corporate hospitality packages, treats you to a unforgettable experience that feels exclusively made for you. The Inner Circle package gifts you with a glass of champagne, superb food and world class views that grantees you a truly memorable experience on the Six Day Series in the highest luxury available. Your dedicated table will provide you with a fantastic base for the day, while the complimentary premium bar is offering wine, beer, spirits and soft drinks throughout the day. The Inner Circle VIP hospitality package can make your day by giving you the chance to rub shoulders with the riders themselves, there's surely no better way to enjoy this splendid sporting occasion!
With the Madison Bar package, guests are treated to an experience unlike any other. Utilise the lounge bar that is accompanied by a delightfully casual atmosphere at the very heart of the track, which is an area typically reserved for athletes and officials. Don't miss out on the range of fabulous complimentary snacks and drinks throughout the evening that makes this Six Day London package one truly worth savouring!