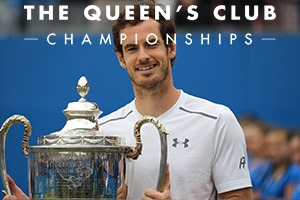 The Queen's Championships Hospitality Packages 
&

 Corporate Tickets
Official Queen's Club Championship corporate packages and VIP hospitality tickets
Enjoy one of the finest grass-court tennis tournaments of the season with our official Queen's Club Championships hospitality packages. In 2022 this venerable tournament (also known as the Fevertree Championships) will return to The Queen's Club, London – one of the most beautiful settings in the world of sport.
The 2019 championship saw Andy Murray and Feliciano Lopez win the Queen's Club doubles title – a huge feat for Murray who had a life changing hip operation only a few months earlier!
If the previous tournament was anything to go by, you can certainly look forward to another splendid sporting occasion for 2022.
Do not miss out on one of the finest events of the season with the Queen's Club Championships, serving the perfect opportunity to entertain your valued clients and guests.
Display 100 Products per page
---
Queen's Club Championships Corporate Packages – The President's Room, Real Tennis Museum & Dedans, Love Fifteen, Roof Garden, The Roof Garden Boxes and The Club Lounge
Eventmasters are delighted to offer a wide range of official corporate hospitality packages for the Queen's Club Championships.
The Queen's Club Championships is staged within one of the most historic and picturesque settings in London. Attracting many of the top ATP men's tennis players from around the world to play on the unrivalled grass courts, the tournament provides a galvanising atmosphere as well as providing a delightfully intimate setting to entertain valued clients, friends and colleagues.
The LTA provide five superb corporate hospitality options for your consideration, each of which offer guests a delightful experience to savour.
Located in the historic Members' Clubhouse, The President's Room prides itself on offering the most exclusive seating at the Queen's Club, on the Royal Box Balcony. Dating back to 1886, the sumptuous suite oozes heritage, elegance and sophistication – traits which are synonymous of the famed sport. Guests will be treated to a delectable three-course lunch as well as a delightful champagne reception, allowing distinguished guests to savour all of the sublime action in splendid VIP style.
Steeped in rich history, The Real Tennis Museum & Dedans celebrates the historic journey of The Queen's Club from 1886 to the present day. Exuding luxury and charm, this beautiful unique location which overlooks the Real Tennis Courts,offers an unrivalled air of exclusivity for guests to enjoy a lavish day as they please.
Love Fifteen, created in association with the Jamie Oliver' 'Fifteen' Charity, provides a delightfully unique & informal experience for all guests to enjoy.
The restaurant, complete with an attractive rustic aesthetic, provides a casual dining environment with Fifteen-inspired seasonal summer lunch, freshly cooked from the open kitchen. Chalk board menus, wooden tables and honest local food defines this facility as a more intimate and casual experience, allowing guests to sit back, relax and soak up a splendid day in the sun.  The charity, 'Fifteen', will also benefit from a generous donation put forward following each package that is purchased.
The Roof Garden offers guests an enticing fusion of both casual and formal – this splendid environment allows a host to entertain in a way that suits them and their guests, in a stunning surrounding, with no pressing schedule. This offers elements of self service throughout the day including theatrical chefs, grazing tables and a magnificent surf 'n' turf centrepiece to for your guests to gorge on. Your table of choice will be stocked with a splendid selection of craft beers and fine wines and allows you to help yourself throughout the day.
Classic dining with a modern gastronomic twist, complemented by impeccable service and delivery; a perfect summary for the plush Club Lounge at the Queen's Club Championships. Guests can enjoy an alluring Rose Champagne reception on arrival, as well as a flavoursome fine-dining experience and afternoon tea.
With such a fabulous range of hospitality facilities available at this year's Queen's Club Championships, you will certainly be spoilt for choice when you come to entertain your esteemed guests.