Queen's Club Hospitality – Love Fifteen
Love Fifteen, created in association with the Jamie Oliver' 'Fifteen' Charity, provides a delightfully unique & informal experience for all guests to enjoy.
The restaurant, complete with an attractive rustic aesthetic, provides a casual dining environment with Fifteen-inspired seasonal summer lunches with self-serve elements, freshly cooked for all guests. Chalkboard menus, wooden tables and honest local food define this facility as a more intimate and relaxed experience, allowing guests to sit back and soak up a splendid day in the sun. The charity, 'Fifteen', will also benefit from a generous donation after each package purchased.
Love Fifteen at Queen's Club Highlights:
Official Centre Court East Stand ticket
Located close to Centre Court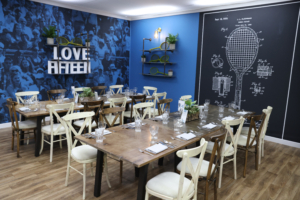 Official Centre Court East Stand ticket
Located on the ground floor of the Southern Pavilion
Located close to Centre Court
Seasonal summer lunch
Afternoon tea
Casual dining environment
Complimentary bar of Pimm's, beer, selected wines and soft drinks throughout the day
Take-away beverages to sip during play
Tables for 10-12, smaller groups on shared tables
Self-serve elements
TV for all your tennis viewing