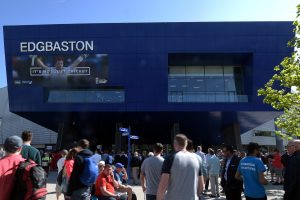 Edgbaston Hospitality 
&

 Tickets
England Cricket Fixtures
Entertain your important clients and guests in VIP style with Edgbaston hospitality & tickets. Birmingham's premier cricketing venue has been the scene of some of the most thrilling international cricket matches of recent times.
2019 saw the return of the ICC Cricket World Cup, with Edgbaston hosting a number of exciting matches, including notable England cricket fixtures. Edgbaston also hosted the 1st Test of the Ashes Test Series in 2019, where England faced long-term rivals Australia.
Edgbaston hosted the Royal Internationals (ODI) for England v Pakistan in 2021 – accommodating around 19,000 to witness some of the greatest views from legendary cricket players. England celebrated their glorious victory, bringing a wonderful three-match ODI series to an end by the Three Lions winning by 3 wickets.
With new fixtures being announced for 2022, cricket fans can enjoy our official Edgbaston corporate hospitality & tickets. Our Edgbaston hospitality packages will guarantee to impress clients and guests, whether they are looking for a luxury style with our Executive Boxes or a more relaxed environment with our 1882 Club.
Display 100 Products per page
---
Watch Cricket Events in VIP Style with Edgbaston Corporate Hospitality & Tickets
With a capacity of 25,000, Edgbaston is the second-largest cricket ground in the United Kingdom, just behind the famous Lords Cricket Ground. Its first-ever Test Match took place in 1902, and the stadium has regularly hosted international cricket ever since.
Along with world-class international cricket, Edgbaston has seen the very best county cricket on offer. In 1994 West Indies legend scored the highest ever first-class score as he hit an astonishing inning of 501 against Durham.
Who could ever forget England's epic clash with Australia in the 2005 Ashes series? The match went right down to the wire as Michael Vaughan's England side clung on for a two-run victory, the closest margin in Ashes history. But it will be best remembered for Andrew Flintoff's show of sportsmanship at the climax of the game as he consoled Australian batsman Brett Lee.
More records fell in 2015 during the extraordinary One Day International series between England and New Zealand. In the opening match of the series, the hosts hit a remarkable 408 runs in their innings before going on to register their highest ever winning margin of 210 runs.
One thing is for certain, games at Edgbaston are rarely dull affairs, and the stadium is recognised as a fortress for England. Don't miss a minute of the action as you and your guests sit down to enjoy a VIP experience at Birmingham's premier cricketing venue.
See England Cricket Fixtures with Corporate Tickets & Hospitality Packages in the Warwickshire Suite & Executive Boxes
Edgbaston has undergone multi-million-pound redevelopments over the past couple of years and now boasts some of the finest cricket hospitality facilities in the UK.
Enjoy England's matches at Edgbaston within the outstanding 1882 Club hospitality facility. With a fine dining restaurant located inside the second tier of the Pavilion Stand, guests can enjoy stunning views of the action.
You can soak up the famous Edgbaston atmosphere as the match unfolds with the Executive Boxes. Guests will also enjoy a champagne reception, complimentary bar, afternoon tea, official match programme, and a celebrity guest speaker with their cricket hospitality.
Eventmasters is also offering exclusive hospitality service with the RES Wyatt Boxes and Aylesford Boxes. Both packages offer a casual and informal environment for guests who want to relax in the boosted premium padded seats, while a dedicated hostess service is provided for guests entertainment.
We are also delighted to offer the Warwickshire Suite. This superb corporate facility offers first-class hospitality in a premium shared restaurant. The Warwickshire Suite provides light and airy surroundings for guests combined with superb pitch side views from the shared balcony on the 3rd tier of the Pavilion Stand.
Impress your clients and guests to the Edgbaston Experience Club, where unique and delicious meals are provided to make your summer's day unforgettable. If you are looking for a souvenir to take home with you, don't forget to look at the merchandise available, showcasing various gifts and merch from Edgbaston.
Don't miss out on these fantastic Edgbaston corporate hospitality packages for England Cricket fixtures for 2022.