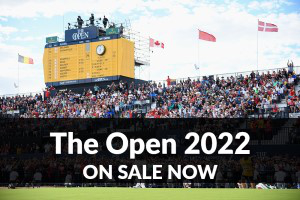 The Open – Golf Corporate Hospitality and Tickets
Discover our range of The Open Hospitality Packages at St Andrews for 2022
Dazzle guests with a day at one of the world's most prestigious golf championships with our brilliant The Open hospitality packages at St Andrews. The Open is a unique way to create lasting memories for you and your guests at St Andrews in 2022. Bask in the atmosphere at one of the world's greatest sporting spectacles and indulge yourself in some of the finest Scottish hospitality with the Open 2022. Now is the time to discover our range of packages for all five days of next years' competition.
Each package offers a unique way to enjoy one of golf's most exciting championships. With The Open 2022 Scorers, Engravers or Greenkeepers hospitality packages, guests are promised the VIP experience with private lounges, luxurious buffets and lunch with a complimentary bar serving drinks all throughout the day.
Corporate hospitality at The Open has always been a success and has been enjoyed by many over the years, and Eventmasters continues the tradition today. Being a leading provider of corporate hospitality with The Open Golf for over 30 years, we are certain we will make your day special. Celebrate the 150th Open at St Andrews with the Official Open hospitality packages.
Display 100 Products per page
---
The Open Golf Hospitality – St Andrews 2022– Golf Corporate Packages and VIP Tickets
Since 1860, The Open has been played across some of the world's most famed links courses, generating an astonishing legacy of world-class champions.
It is the most distinguished international championship in professional golf, with the Claret Jug – first presented in 1873 – representing one of the most iconic trophies in sport.
From former greats such as Harry Vardon, Bobby Jones, Henry Cotton and Walter Hagen to recent golfing heroes such as Jack Nicklaus, Arnold Palmer, Seve Ballesteros, Tiger Woods and Rory McIlroy – the greatest players in the world have all flocked to this illustrious venue as they look reign supreme at the thrilling The Open.
Fifteen fabulous courses have hosted The Open during its remarkable 158-year existence, with notable mentions including Royal Troon, Royal Birkdale, Royal St. George, Royal Liverpool, Royal Portrush and Carnoustie.
St Andrews and Royal Liverpool have often boasted the largest crowds, with numbers in excess of 200,000 recorded across certain tournament weeks.
There is also a splendid range of The Open hospitality services available – from pub grub to posh nosh, from classic pints to fine wines. Numerous free activities in the spectator village also offer new and exciting forms of entertainment – the most recent Open featured a longest drive simulator and a 15-minute interactive tutorial in the R&A swing zone. There is certainly plenty to keep you occupied.
Millions all over the world have shared memories of the extraordinary moments that unfold at The Open.  The Open hospitality packages have always allowed comfort and luxury for those in attendance, making it a day you won't forget soon.
Four of the greatest-ever champions, Seve Ballesteros, Jack Nicklaus, Tom Watson and Tiger Woods, all produced tremendous displays of passion and unrivalled skill to capture the imagination of golf fans from across the world.
Exhilarating, flamboyant, wild and impulsive – The Spaniard Seve Ballesteros ushered in a new era of sporting genius, attracting a new generation of global fandom.
He was a runner-up at the age of 19 in 1976 and only three years later became the youngest champion of the 20th century. In 1984 he birdied the 18th at St Andrews and celebrated his second Open victory fabulously. At Lytham in 1988, he produced an astonishing closing round of 65, a win which was polished off with a sublime chip at the last green.
Jack Nicklaus played his greatest golf for longer than anyone – exact and conservative, hitting glorious long-iron shots and holing the putts with consummate ease. His first Open victory came at Muirfield in 1966, followed by victories at St Andrews twice, in 1970 and 1978. Between 1963 and 1980, Nicklaus won the contest three times, finished second seven times and third three, and other than finishing 12th once, was never placed less than sixth – an astonishing record to hold.
Between 1975 and 1983, Tom Watson won five Open competitions in a nine-year period, a superior conversion to anyone previously.
He won on his debut in 1975, in a playoff with Jack Newton, and two years later pipped Nicklaus to the post in the "Duel in the Sun" at Turnberry. Watson won his third Open at Muirfield in 1980 and again in 1982 at Royal Troon before securing his fifth title at Royal Birkdale a year later. In 2014, at the age of 64, he extended his record as the oldest competitor to play 72 holes at The Open.
With 14 Major Championships, Tiger Woods sits second only to Nicklaus's 18 titles and indisputably inherits the Bear's crown as the greatest player of his generation.
He won The Open three times, each more special than the last.
Woods took the Millennium Open at St Andrews in 2000 by eight strokes, just weeks after reigning supreme at the US Open at Pebble Beach by 15 shots. He went on to win the PGA Championship in a play-off and subsequently the 2001 Masters to become the first player ever to hold all four Majors at once.
He returned to St Andrews in 2005, finishing five ahead of Colin Montgomerie and a year later became the first player since Watson in 1983 to successfully retain the Claret Jug with a superb display of iron play on a sun-soaked, fast-running links course at Hoylake.
The Open has certainly seen its fair share of star-studded sportsmen over the years and promises to deliver many more in the days to come.
Make sure to not miss any of the thrilling action at the 150th Open with Eventmasters' splendid Open Golf hospitality packages for the Open 2022.