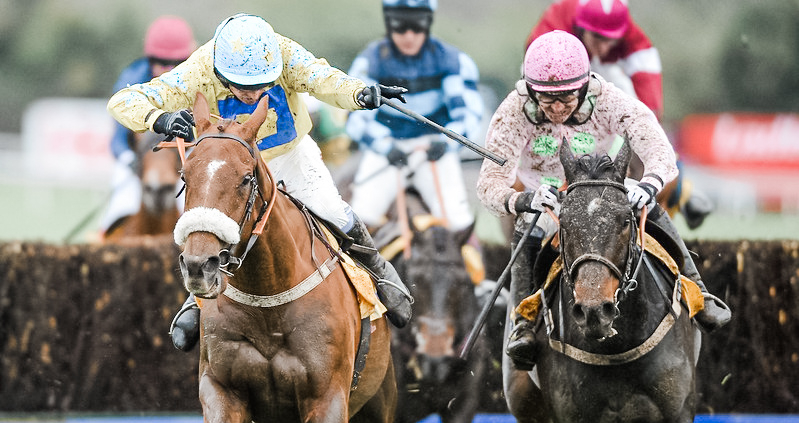 Punchestown Festival Corporate Hospitality Packages 2023
Punchestown Festival is one of the most anticipated social and racing events within the Irish calendar. Our horse racing hospitality makes this an occasion not to be missed by racing lovers with incredible horse racing action spread across five spectacular days!
Each racing event provides its own unique racing experience. The Punchestown Festival kicks off with Champion Chase Day on Tuesday, Punchestown Gold Cup on Wednesday, Champion Stayers Hurdle Day on Thursday, Champion Hurdle Day on Friday and finally, Punchestown Festival Family Day on Saturday.
Set in the beautiful County Kildare, also known as the 'horse county', the Punchestown Racecourse celebrates its 200th anniversary in 2023, and the bicentennial event is guaranteed to be bigger and better than any other Festival that came before.
Experience the pinnacle of the Irish National Hunt Season in complete luxury with Eventmasters' Punchestown Festival hospitality packages. With a range of options available at Punchestown Racecourse, we have packages to suit every taste!
Display 10 Products per page
---
Punchestown Festival Hospitality & Tickets 2023 – Punchestown Racecourse
The 2023 Punchestown Festival is referred to as the pinnacle of the Irish National Hunt Season and takes place at the Home of Irish Jump racing.
With a total prize fund of €300,000 for every open Grade 1 race and a total prize pot of over €3 million, Punchestown Racecourse hosts top-quality racing across all four days of the Festival.
Some of the most anticipated racing events at the festival include; Herald Champion Novice Hurdle, Tattersalls Ireland Champion Novice Hurdle, Growise Champion Novice Chase, Champion Four Year Old Hurdle, Champion INH Flat Race and the Punchestown Gold Cup.
Standing proudly on the beautiful County Kildare, horse racing fans won't want to miss out on the special renewal in 2023. Make it an event to remember for both you and your esteemed racing fans with a sumptuous Punchestown horse racing hospitality package.
Plan Your Visit to Punchestown Festival 2023
The Punchestown Festival is a stunning and vibrant experience for anyone who wants to enjoy a day at the races. Please continue reading for information on travel to Punchestown Festival and our most frequently asked questions.
Punchestown Racecourse Parking
Due to the rural location of the racecourse and the ample parking provided, most racegoers drive to Punchestown. There are also bus, train, and taxi connections for those wishing to travel by public transport.
There is parking space for up to 17,000 cars, and parking at Punchestown is free.
---
Punchestown Festival & Punchestown Racecourse FAQs
When is the Punchestown Festival?
The Punchestown Festival takes place between Tuesday 25th April and Friday 29th April 2023.
How do I get to Punchestown Racecourse?
For directions to the Punchestown Racecourse, please use the address provided:
Punchestown,
Naas, Co. Kildare,
Ireland
We advise that you check the weather forecast on the day of your visit and give plenty of time to arrive.
How do I get to Punchestown Racecourse by car?
Here are directions/routes that have been recommended if you are travelling by car:
From Dublin Airport – 48kms (30 miles) M1, M50, N7, R410
From Dublin City – 35km (22miles) N7, R410
From Cork – 2hrs, 40 mins, N8, N7 R410
From Galway – 2hrs, 50mins M6, M4, M50, N7, R410
From Belfast – 2hrs, 20mins, M1, M50, N7, R410
What are current COVID safety rules and guidelines for visiting Punchestown Racecourse?
While you do not need a COVID certificate to attend the races, we advise that you do not attend the Punchestown Festival if you are experiencing COVID symptoms or have been in close contact with someone that has tested positive COVID-19.
Mask wearing is also required in customer-facing settings, such as public transport, taxis, airports, ports and retail premises.
Is Punchestown Racecourse cashless?
You are encouraged to use cashless payments when purchasing food and drinks under current COVID safety guidelines. However, bookmakers will accept card payments.
---
Enquire About Punchestown Festival Hospitality:
Complete this form to register your interest:
If you are interested in any of our hospitality packages, our event specialists are ready to help you make your day memorable. Complete this contact form and we will be in contact shortly.