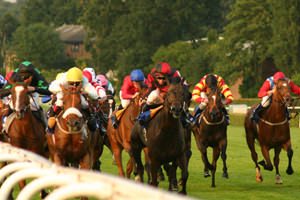 Sandown Racecourse Hospitality – Betfair Tingle Creek Festival Packages 2023
Official Tingle Creek Festival Hospitality Packages
Sandown Betfair Tingle Creek Festival Dates: Fri, 8th Dec 2023 – Sat, 9th Dec 2023
The history of the Tingle Creek Festival begins all the way back in 1979, but after the event had it's name changed twice. It was first known as the Benson & Hedges Gold Cup, going on to be renamed the Mecca Bookmakers' Handicap Chase before eventually becoming known as the Tingle Creek Handicap Chase, which was named after the famous horse Tingle Creek who was popular in the National Hunt races in the 1970s.
Tingle Creek was very successful at the Sandown Park Racecourse, it won the Sandown Park Pattern Handicap Chase a grand total of three times, and the horse even went on to win the Tingle Creek Chase in 1973. It was a rare occasion that a horse had won a race named after themselves.
Several horses, jockeys and trainers have been highly successful in the Tingle Creek Festival over the years at Sandown. The most successful horse is Flagship Uberalles who has three wins (1999, 2000 & 2001). As for the most successful jockey at the Tingle Creek Festival , this is Richard Dunwoody, who won there 5 times in total, with three different horses: Lefrak City (1985), Waterloo Boy (1991 & 1992) and Sound Man (1995 & 1996).
The most recent winner (2022) of the Tingle Creek Festival was Edwardstone, who was ridden by Tom Cannon and trained by Alan King st Sandown.
2023 is sure to see more enthralling action as the Tingle Creek Festival takes place once again at the Sandown from Friday 8th to Saturday 9th December 2023.
Display 20 Products per page
---
Betfair Tingle Creek Festival Hospitality 2023 – Equus Restaurant & Private Boxes
Eventmasters are delighted to offer VIP luxurious Sandown hospitality for you to enjoy the action at the 2023 Betfair Tingle Creek Festival in some style. We have two packages, the Equus Restaurant Hospitality Package and the Private Boxes Hospitality Package. Both Sandown hospitality facilities offer excellent experiences in the respective packages.
In the Equus Restaurant Hospitality Package, we offer the Premier and VIP Experiences at the Betfair Tingle Creek Festival. Both experiences offer a three-course a la carte meal (with a private table), betting couriers, car parking pass and access to the premier enclosure with a hospitality badge at Sandown.
As for the Private Boxes Hospitality Package, it offers three VIP experiences: Classic, Premier & VIP. Both of these luxurious experiences offer a multi-course buffet, a race card, a betting facility nearby, car parking (with Premier badge) at Sandown and a private box with a balcony overlooking the winning post at the Betfair Tingle Creek Festival.
---
Interested in the Betfair Tingle Creek Festival hospitality packages at Sandown Racecourse? Enquire below:
Complete this form to register your interest:
If you are interested in any of our hospitality packages, our event specialists are ready to help you make your day memorable. Complete this contact form and we will be in contact shortly.