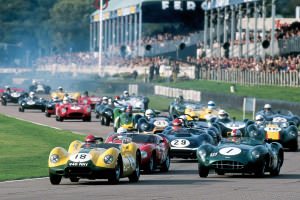 Goodwood Revival Hospitality Packages
Goodwood Motor Sports
Eventmasters are delighted to provide official VIP Goodwood Revival hospitality packages. The Revival is the world's most popular historic motor race meeting and the only event of its kind to be staged entirely in the nostalgic time capsule of the 1940s, 50s and 60s that relives the glory days of Goodwood Motor Circuit in West Sussex.
It is the biggest and best historic motor racing party of the year. It offers visitors the opportunity to leave the 'modern world' behind within the themed hospitality facilities where unlimited Champagne, a delicious four-course lunch and afternoon delights are served in an unabashed celebration of flat-out wheel-to-wheel sports car racing around a classic racetrack.
Display 10 Products per page
---
Enjoy the 2022 Goodwood Revival Festival with corporate hospitality packages and VIP tickets
The Goodwood Revival Festival is held each September and covers three days of motor racing action. Since 1998 the Revival has given circuit-goers the opportunity to enjoy the types of cars that would have graced the Circuit during its original era (1948 – 1966). The first Revival meeting was held 50 years since the 9th Duke, and Duchess of Richmond and Gordon opened the circuit in 1948, driving around the track in a Bristol 400, considered the state of the art sporting saloon in Britain.
The Goodwood Revival Festival is a showcase for reliving the glory days of Goodwood Circuit, untouched by the modern era. It features Grand Prix cars from the 50s and 60s, GT and sports car racing, historic saloon cars and even Formula Juniors. Many of the vehicles showcased are driven by racing celebrities from past and present and have included names such as Sir Stirling Moss, Damon Hill and Gerhard Berger, to name but a few. Following restoration, the Circuit itself remains unchanged from its golden days. Most visitors enjoyed the festival, and corporate hospitality dressed in period clothing and modern-day vehicles are prohibited within the circuit's perimeter throughout the festival weekend.
Corporate hospitality at the Goodwood Revival is themed to suit the classic era of motor racing. It is a perfect way to entertain important clients, stakeholders, friends, and relatives with a passion for cars and nostalgia. Take a look at the Assembly Rooms, Carver Barracks and Salvadori Butchers to recognise Goodwood's history, allowing you to discover Goodwood's journey back to motor racing. Supplement your Goodwood Revival tickets and take a step back in time; relive Goodwood's glory days whilst enjoying the very best of Goodwood hospitality and feel like a VIP of the classic era.
---
Need more help? Complete the form below:
Goodwood Revival
One of our Goodwood Circuit Team are ready to help you plan your day at the Goodwood Revival 2022 - Complete this contact form and one of the Goodwood Circuit Specialists will be in contact shortly.