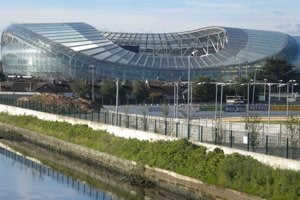 Aviva Stadium Hospitality Packages
Ireland Six Nations 2024 Hospitality Tickets for Aviva Stadium are available!
Entertain your important clients and guests in Ireland with Irigh Rugby hospitality packages for the Six Nations in 2024.
The Dublin venue Aviva Stadium is one of the finest sports stadiums in the world and regularly hosts international rugby and football fixtures. With rugby hospitality-only packages available inside the Clayton Hotel, Ireland rugby fans will enjoy an unforgettable day during Ireland's Six Nations fixtures.
In 2024, the Guinness Six Nations Series welcomes the best of the northern hemisphere to the Aviva Stadium. Eventmasters are delighted to offer Ireland rugby fans and supporters a day to remember with cutting-edge Six Nations hospitality.
Display 20 Products per page
---
Aviva Stadium – Home to Ireland's Six Nations 2024 Fixtures
Witness Ireland as they battle with Italy, Wales and Scotland during the 2024 Six Nations. No Irish rugby fan would want to miss this!
The Aviva Stadium, built on the oldest sports stadium in Europe, Lansdowne Road, reopened its glimmering doors on May 14, 2010.
The award-winning Aviva Stadium is home to the Irish national rugby and Republic of Ireland national football teams.
Located in the Ballsbridge suburb of Dublin, Aviva Stadium has a seated capacity of 51,700 with continuous curvilinear-shaped stands sweeping all four sides.
The original multi-discipline ground has been in existence since 1872. Before its closure in December 2006, Aviva Stadium was the oldest rugby union ground globally in its old incarnation.
The South, East and West stands have four tiers of seating for spectators. The bottom and top tiers provide for the main body of fans. The second tier offers facilities for premium ticket holders, and the third tier comprises corporate boxes. The northern end of the Aviva stadium, due to its proximity to local housing, incorporates only the lower tier of the bowl.
There are 10,000 seats at the premium level and a further 1,300 at the box level at Aviva Stadium.
The redeveloped Aviva Stadium – construction took three years starting in 2007 – is designed to provide superb facilities for spectators and players, the media, and the many support personnel needed to stage events.
There are excellent rugby hospitality facilities throughout Aviva Stadium, including three restaurants serving 1,500 covers, nine kitchens, and 69 kiosks and bars serving 90,000 pints.
The creation of Lansdowne Road Stadium was the vision of Henry William Dunlop, an outstanding young athlete who organised the first All Ireland Athletics Championships.
His vision was to develop a purpose-built sporting venue, and this was achieved.
The original complex included a cinder track for athletics, a cricket pitch, a croquet green, three football pitches, and archery and lawn tennis facilities. The first rugby match played at the ground was interprovincial between Leinster and Ulster. The first rugby international followed in 1878.
In the early 1900s, the Irish Rugby Football Union secured the lease of Lansdowne Road from the Pembroke Estate, and it was at this time, a plan was conceived to change the orientation of the stadium to North/South from East/West. It saw the first stand built-in 1908.
While Dunlop had conceived Lansdowne as a multi-purpose venue, the ground soon became synonymous with rugby – although even in the 1950s, a crowd of 40,000 witnessed Olympic gold medalist Ronnie Delany run there in an international athletics meeting.
During the 1980s, the Irish soccer team also made Lansdowne Road it's home, albeit the first football international at the stadium took place in 1971 when Ireland played Italy in a friendly.
The old stadium had a long and proud history of hosting world-class athletics and sports events. Still, it was also a venue for some of the world's best artists, including Frank Sinatra, Liza Minelli, Sammy Davies Junior, Michael Jackson, Celine Dion, Neil Diamond, Bon Jovi, The Eagles, U2, and REM.
Aviva Group Ireland signed a 10-year deal for the naming rights in 2009. And in this environmentally conscious era, the Aviva Stadium has high sustainability built into it – for example, a rainwater harvesting system for pitch irrigation via a 320,000-litre tank.
Makes for a fantastic Irish rugby experience and a fun weekend stay. Irish rugby hospitality is the best. Hospitality Tickets are selling fast – don't forget to book your Ireland Six Nations hospitality-only packages at Aviva Stadium today with Eventmasters.
---
Register For Six Nations Hospitality – Priority Alerts:

Six Nations
If you are interested in the Six Nations series in 2024, our Six Nations hospitality team are ready to help you make your day memorable - Complete this contact form and one of our Six Nations Team will be in contact shortly.