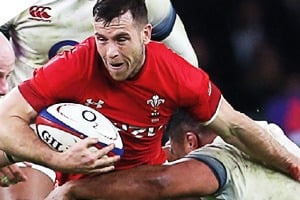 Principality Stadium Hospitality Packages
Six Nations 2024 Hospitality Tickets at Principality Stadium are on sale!
Eventmasters are thrilled to operate as officially registered agents of WRU hospitality. Enjoy world-class entertainment at the home of Welsh rugby with Principality Stadium Six Nations hospitality packages in 2024.
Wales has faced tough tests at home against rivals England, resulting in a long history between the two rugby unions. Wales and Ireland have also clashed three times at the Rugby World Cup, with Wales winning twice against Andy Farrell's side. Warren Gatland's side has vowed to defeat their opponents at Principality Stadium in Cardiff during the 2024 Six Nations series.
It is all about pride in traditions at Principality Stadium and there is a fantastic sense of anticipation as the crowds pour through the turnstiles, taking full advantage of the great  Six Nations hospitality and camaraderie on offer.
Whether entertaining work colleagues,  important clients or Wales rugby fans, our wide range of VIP Principality Stadium hospitality facilities for the Six Nations will create an experience to savour.
Display 20 Products per page
---
Principality Stadium – The Home of Wales Six Nations 2024 Fixtures
The Principality Stadium, formerly known as the Millennium Stadium, is home to Wales' national rugby union team.
Rugby is Wales' national game, and, as anyone entering the Principality Stadium in Cardiff will know, it is taken extremely seriously.
Wales and England have competed head-to-head in 139 test matches, originally meeting in 1881, with the latter claiming 67 wins compared to Wales' 60 wins overall. Wales and Ireland have also clashed in 134 matches, with Warren Gatland's side striving ahead with 70 wins.
In the last Six Nations Championship, Wales played three home matches – Scotland, France and Italy. Warren Gatland's men finished in fifth place after missing out on victory against Italy in 2022. Wales will renew their rivalry with England in 2024, and fans can expect there to be no shortage of drama and intensity at Principality Stadium.
Wales' biggest ever Six Nations win was against Italy in 2016, where they defeated their European rivals 67-14. 2020 was no different as Warren Gatland's men dominated once more, defeating Parisse's men 26-15 to add another win to the scoreboard.
The renowned Principality Stadium was initially built for the 1999 Rugby World Cup but has diversified to include many other large-scale events, including Welsh international football matches. Principality Stadium opened in June that year, with Wales' first home fixture being a friendly against South Africa, which Wales won 29-19 before a test crowd of 29,000.
With a total seating capacity of 74,500, Principality Stadium is the fifth-largest stadium in the Six Nations Championship behind the Stade de France, Twickenham, Stadium Australia and the FNB Stadium in South Africa. Principality Stadium is also the second-largest stadium in the world, with a fully retractable roof.
The Visit Cardiff visitor and tourism website describes the thrill thus – "Explore the magnificent Principality Stadium, one of the most impressive icons of modern Wales. Discover the 2012 Olympic football dressing room and experience the atmosphere before a match in the Dragon's Lair, Wales' rugby team dressing room.
Principality Stadium, the National Stadium of Wales in the heart of Cardiff, is a stadium that captivates an entire population, making us believe. It represents Wales' collective spirit, and reminds us what we can achieve when we come together. Unquestionably, it is one of the country's most important and iconic buildings, a symbol of 21st century Wales and part of what they called 'Cool Cymru'."
"It's our stadium, our coliseum and for many of us here in Wales, a place of worship. Supporters travel from all four corners of the country to see their heroes in the flesh and to feel the warmth of the flames on their painted faces.
It's a modern day pilgrimage, the chance to hear the roar of the crowd singing 'Gwlad, Gwlad!' ('Country, Country!') in the National anthem. This is one of the legendary wonders of Wales.
"74, 500 voices and one glorious sound."(via Visit Wales)
And that's just a taste of all the rugby action as Wales runs out on a big Six Nations occasion.
The name change came about due to a partnership between the Welsh Rugby Union and the Principality Building Society, a company's 10-year investment commitment in Welsh rugby.
At the official handover in 2016, WRU chairman Gareth Davies pledged it was the start of a new era.
He said: "Principality stadium has been in situ for the last 16 years and has hosted more than seven million rugby supporters in 110 matches involving Wales.
"There have been some other significant events such as FA cup finals, rugby league finals, world boxing fights and some fantastic concerts. We are delighted to go into the next era of development.
"This new partnership is a boost for all levels of Welsh rugby, with reinvestment in rugby communities and individuals who dedicate so much of their time, energy and passion to the sport. The partnership is also a key factor in our vision to encourage more people to engage with rugby, more often, providing more enjoyment and success on the field."
Principality has been in a working partnership with the WRU since 1969.
Graeme Yorston, group chief executive, declared proudly: "We're very conscious that we try to give back to our members as a member-owned business. The whole of Wales can share in this relationship and partnership."
Former Welsh coach Warren Gatland noted: "The national stadium is a special place for everyone involved in Welsh rugby. I've said it before, but the stadium is simply the best rugby stadium in the world.
"The partnership with Principality Building Society will benefit the whole game from grassroots right through to the elite."
Principality Stadium actively generates more than £135 million for the local economy each year.
It is a must experience for every rugby fan wherever they are from and whoever they support. Secure your Six Nations hospitality packages for Principality Stadium today!
---
Register for Six Nations Hospitality – Priority Alerts:

Six Nations
If you are interested in the Six Nations series in 2024, our Six Nations hospitality team are ready to help you make your day memorable - Complete this contact form and one of our Six Nations Team will be in contact shortly.