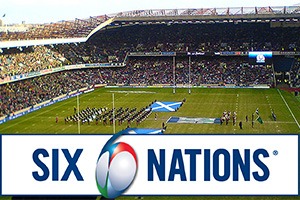 Scotland Rugby Tickets 
&

 Hospitality in the Six Nations
Six Nations at BT Murrayfield
We are delighted to offer official Scottish rugby tickets and hospitality packages for the 2022 Guinness Six Nations. The Six Nations are a highlight sport event enjoyed by avid rugby enthusiasts annually with Six Nations hospitality. The fixtures hosted at BT Murrayfield Stadium are  exciting and exhilarating.
The 2022 Six Nations Championship is the 23rd Six Nations Championship and the 128th edition of the competition. The annual rugby union competition is contested by the national teams of England, France, Ireland, Italy, Scotland, and Wales. In the 2021 Six Nations Championship, Scotland impressed rugby fans by securing a 11-6 in the England v Scotland at Twickenham Stadium, defeating the British lions and guaranteeing Scotland the home advantage in 2022.
With the Scotland rugby fixtures being released, six nation ticket holders can expect Scotland to come back stronger and more committed to winning top place for the Guinness Six Nations for the Calcutta Cup. Book your tickets now to experience VIP Scottish rugby hospitality with six nations tickets to watch Scotland v England and Scotland v France at BT Murrayfield!
Display 100 Products per page
---
Six Nations Tickets & Hospitality Packages at BT Murrayfield Stadium, the home of Scottish Rugby
In December 1870 a group of Scots challenged the English to a match under rugby rules … and they have been challenging all-comers ever since.
The contest took place at Academical Cricket Club's ground at Raeburn Place, Edinburgh, on Monday March 27 the following year in front of around 4,000 spectators.
The Scots won and it set in train a rivalry which lasts to this day, both sides playing annually for the Calcutta Cup.
It was donated to the Rugby Football Union in 1878 by the members of the short-lived Calcutta Rugby Club.
The members had decided to disband – the cup was crafted from melted-down silver rupees which became available when the Club's funds were withdrawn from the bank.
Scottish rugby has always been known for its passion and commitment. The fans' hospitality is known worldwide.
But, primarily a footballing nation, there have always been limited numbers to pick from though Edinburgh and the Borders have always been strong.
Perhaps Scotland's greatest modern era came in the late 1980s and early 1990s.
In January 1986, a trial match between the "Blues" (players expected to feature for Scotland) and "Reds" (emerging players with a possible international future) resulted in a shock 41-10 win for the "Reds".
The "Reds" team included Gavin and Scott Hastings, Finlay Calder and David Sole, all of whom would debut for Scotland in the Five Nations that year and go on to become Scotland rugby legends.
Scotland shared the 1986 Five Nations championship with France, each side winning three out of their four games. The series also saw Scotland thrash England 33–6 at Murrayfield, the home side's record win over the English, England's heaviest defeat in over a century.
But 1990 was perhaps the standout when Scotland's season came down to one game, a Grand Slam decider at Murrayfield against the "auld enemy", England. Both sides had won all their Five Nations fixtures, and England were overwhelming favourites despite being the away side. Scotland under the captaincy of prop Sole went on to win 13-7.
Scottish rugby has produced some fantastic players down the years.
Gavin Hastings was British Lions captain, Scotland rugby captain, Grand Slam winner and the best full-back of his generation.
John Rutherford won 42 caps at stand-off and was a beautifully balance ball player.
Gordon Brown was a Scotland rugby and Lions giant. 'Broon frae Troon' was the most important member of what may have been Scotland's greatest front five.
Ian McLauchlan, the 'Mighty Mouse', was a relative late arrival on the international scene but after making his debut against England in 1969 he became a fixture in the national side for the next ten years, eventually becoming the oldest player ever to represent Scotland. A member too of the 1971 Lions winners in New Zealand.
Ian Smith was first capped against Wales in 1924, and notched an incredible 24 tries in 32 appearances.
Andy Irvine is considered the greatest running full-back that Scottish rugby has ever produced.
His record was 51 Scottish caps, 15 as Scotland rugby captain, three Lions tours, over 250 international points, plus five tries in a single game for the Lions.  He could transform a game in an instant.
Brilliant players.
And may many more follow in their footsteps. Make it a trip to remember at BT Murrayfield.