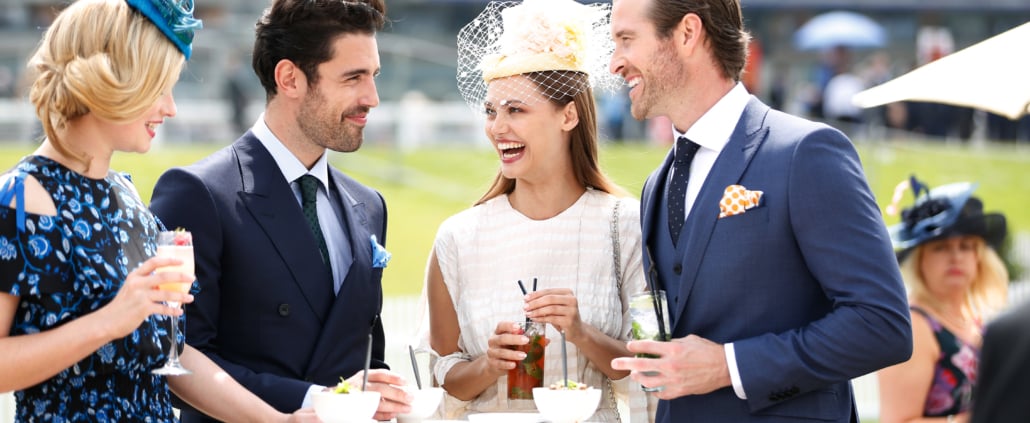 Ascot Racecourse Hospitality Packages
Eventmasters are delighted to offer a range of Corporate Hospitality Packages for all major race days at Ascot Racecourse, including Britain's most valuable race meeting, Royal Ascot.
Ascot is synonymous with sophistication, style and excellence. As Official Hospitality Providers (OHS) directly appointed by Ascot Racecourse, we provide outstanding service and fine dining experiences across various facilities, including an exclusive Private Box, ideally positioned in the Grandstand.
Few sporting venues rival Ascot Racecourse, which has established itself as a national institution and the ultimate stage for racehorses worldwide. With à la carte menus by Michelin-starred chefs, Champagne receptions and complimentary bars, there's no better way to experience a day at the races than with an official hospitality package.
Whether you want to entertain clients and stakeholders or are looking for a more informal atmosphere to enjoy high-quality horse racing with friends and family, we have a package to suit your requirements. For more information, take a look at our Ascot Fixtures & Event Guide.
Display 20 Products per page
---
Ascot Racecourse Corporate Hospitality Packages 2024
The racecourse is the second-largest in England, and with more than 600,000 racegoers attending every year, equivalent to 10% of the UK total — it's no wonder why it is commonly referred to as the epicentre of British horse racing.
While Ascot remains the crown's property, the Act of Enclosure Act passed by Parliament in 1813 ensured that it would be retained for public use. Thanks to the Enclosure Act, the public can walk on Ascot Heath during non-race days between 6.30AM to 7.30PM.
Today, the Home of Flat racing is managed by the Ascot Authority, with Her Majesty's Representative Sir Francis Brooke Bt. holding the position of Chairman.
Ascot is a dual-purpose racecourse covering 179 acres located in the picturesque town of Berkshire, near Windsor Castle and just a 50-minute drive away from London. It was founded in 1711 by Queen Anne and has received the patronage of 11 monarchs ever since.
The first race to ever be staged at the Racecourse was Her Majesty's Plate, worth 100 guineas and open to horses over six years old. Horses were required to carry 12 stones in weight, and seven runners participated in the race, which was made up of three four-mile-long heats – quite different to today's races!
Currently, Ascot stages twenty-six days of racing over the year, eighteen of which are held during the flat racing season between May and October. The remaining eight race days are jump meets, which take place throughout the winter months.
The Royal Meeting — also described as the crown jewel in the summer racing calendar — takes place in June over five days, whilst Britain's most expensive race day, QIPCO British Champions Day, is held during October. Other highlights include the G1 Clarence House Chase, G1 King George VI Stakes and G2 King Edward II Stakes.
Currently, Lester Piggott is the most successful jockey at Ascot Racecourse, claiming 116 winners at the Royal Meeting before retiring from the saddle. However, Frankie Dettori is the most current successful jockey and he'll forever live in Ascot folklore after riding seven winners in the 1996 renewal of the event.
Ascot is also famous for its sartorial elegance, with a dress code dating back to the late 1700s. The Royal family heavily influences race day fashion, and many racegoers continue to treat the races as an opportunity to showcase their finest attire.
Corporate hospitality at Ascot provides guests with an unrivalled vantage point of the horse racing action within a unique atmosphere, creating an ideal setting for entertaining on any of the race days, such as the QIPCO King George Diamond Day.
If you're looking for an Ascot Racecourse Hospitality package that is truly exclusive, look no further than our Private Boxes, which are guaranteed to provide guests with a memorable day of lavish corporate entertainment. Indulge in a three-course fine dining experience, Champagne reception and afternoon tea alongside premium views of the on-track action from your own private balcony.
Many of our clients return to Ascot with us year after year, describing Eventmasters corporate hospitality as "magnificent."
So why not add a touch of decadence to the day and enjoy hospitality against a backdrop that only Ascot Racecourse can deliver?
Ascot Racecourse FAQs
Where is Ascot Racecourse?
Ascot Racecourse is located in Berkshire, South East England.
Easily accessible by all modes of transport.
When is Ladies Day at Ascot Racecourse?
Ladies' Day at Ascot is scheduled for Thursday 22nd June 2023.
What to wear at Ascot races?
Ladies should dress in a formal manner with dress straps being no smaller than 1 inch and below knee-length dress or skirt. Ascot Racecourse also advises wearing a fascinator or hat, which is compulsory in the Royal Enclosure and Queen Anne Enclosure.
Gentlemen are asked to wear a matching suit with a shirt and tie. For guests in the Royal Enclosures, it's mandatory that a hat is worn at all times.
How many facilities are at Ascot Racecourse?
There are 12 facilities at Ascot Racecourse where guests can enjoy full hospitality. These include:
Is there car parking at Ascot Races?
Yes, there is onsite parking for guests at Ascot Racecourse.
How do I book Ascot tickets?
Book your VIP experiences at Ascot Races with Eventmasters. Our corporate hospitality tickets allow you and your guests to indulge in a remarkable day at Ascot Racecourse.
---

Ascot Racecourse Corporate Hospitality – Priority Alerts
Ascot Racecourse
Our Ascot Hospitality Team are ready to help you plan your day at Ascot Racecourse - Complete this contact form and one of our Ascot Specialists will be in contact shortly.